If you had told me a year ago that I would be working from a cafe in Chiang Mai and playing soccer in the evening with locals, I would have told you that you were delusional. But now, as I sit in a charming little cafe sipping on a latte and enjoying the warm Thai weather, I realize that anything is possible.

As a freelance SEO and a lazy digital nomad, I have had the privilege of exploring new destinations while working on the move. It has been an incredible journey so far, and I'm happy to share some of my insights and tips on how to become a digital nomad in the world of SEO.
In this guide, I'll be sharing everything I've learned about becoming a digital nomad as an SEO freelancer. From building a solid foundation for your career to finding clients, transitioning to the digital nomad lifestyle, networking, and more. So let's get started!
What is your "Why"?
Before diving into any career or business venture, it's crucial to ask yourself one important question: What is your "why"?
Understanding your purpose and motivation behind your chosen path is key to finding fulfillment and success.
Identifying your "why" can give you a sense of direction and a clear vision of what you want to achieve in your career or business. It can help you stay motivated during challenging times and give you a sense of purpose when faced with difficult decisions.
Furthermore, knowing your "why" can help you align your values and passions with your work, making it more meaningful and enjoyable. It can also help you differentiate yourself from others in the industry and stand out as a unique and valuable asset.
Without a clear understanding of your "why," it can be easy to get lost in the day-to-day tasks of your work or business, leading to burnout and lack of motivation. On the other hand, having a strong sense of purpose can provide you with the drive and determination needed to overcome obstacles and achieve your goals.
Related: Find You're Why to Get Unstuck
What if I don't have a "why"?
If you don't have a "why" yet, it's okay.
You don't need to have an answer right away. Think about what brings you joy or what drives your passion in life. What are some of your hobbies and interests? What skills do you possess that make you unique? Consider these questions and give yourself the time and space to reflect and discover your purpose.
My why:
My "why" has evolved over time and has been a driving force in my journey as a digital nomad SEO freelancer. Initially, I started with SEO as a hobby to generate additional income online. But as I delved deeper into the world of SEO and began offering my services to businesses, my "why" began to shift.
Through my work, I discovered that SEO was not just a means to earn a living but a powerful tool to help and influence people. I felt I was making a real difference by helping businesses increase their income and, in turn, supporting the families that depend on them.
Today, my "why" has multiple dimensions.
Helping people – whether by improving their online visibility, helping them grow their business, or inspiring them to become digital nomads themselves.
Source of income – SEO allows me to live the lifestyle of a digital nomad, with the freedom to work from anywhere in the world.
Express myself – I express myself through my blog and influence a wide audience.
Building the Foundation for a Career in Digital Nomad SEO
So after discussing the importance of understanding your "why," let's start with building the foundation for a successful digital nomad SEO freelancer career.
Learning the basics of SEO
Learning the basics is important for any job, and SEO is no exception.
Start by learning about the fundamentals of SEO, such as keyword research and understanding how search engines work. This will help you build a strong base of knowledge that you can use to inform your work in the future.
There are plenty of free resources online that can help you get started.
Sources for learning SEO:
Moz – A leading SEO software company that offers a range of resources for learning SEO, including blog articles, guides, and webinars.
Ahrefs – A popular SEO toolset that offers a variety of SEO tutorials and guides on their blog, as well as a free SEO course.
SEMrush Academy – An online learning platform that offers a range of courses and certifications on SEO, digital marketing, and more.
Yoast SEO – A popular WordPress plugin that offers a range of SEO tools and resources, including a blog, free courses, and webinars.
Udemy – An online learning platform with a range of courses available on SEO, including some free options
These resources offer a combination of free and paid options for learning SEO, so you can choose the one that best fits your budget and learning style.
Here are some improved tips for learning SEO:
1. Choose a reliable source for learning and stick with it: With so many online resources, it can be overwhelming to choose where to start. To avoid information overload, pick a reputable source for learning SEO and focus on that. This will help you build a strong foundation of knowledge and avoid conflicting information.
2. Practice what you learn on a website: Theory alone won't be enough to master SEO. It's essential to put what you learn into practice on a website. You can start by building your own website or offering to work on a friend's website for free. This will allow you to experiment with different SEO strategies and see their impact on search rankings.
3. Invest in a paid course or training program: While many free resources are available online, investing in a paid course or training program can be a worthwhile investment. Paid courses often offer more structured and comprehensive learning experiences and access to industry experts and networking opportunities. Plus, the financial commitment can help you stay on track with your learning goals.
Gaining experience in digital marketing
While SEO is a key component of digital marketing, it's also important to understand other digital marketing channels. This can include social media marketing, content marketing, email marketing, and paid advertising.
Developing a niche and building a portfolio
Developing a niche is one of the keys to standing out as a digital nomad SEO specialist. This could be a specific industry, such as healthcare or e-commerce, or a particular type of SEO, such as local SEO or technical SEO.
Once you've identified your niche, build a work portfolio showcasing your skills and expertise.
My niche:
I've discovered that my passion lies in working with small businesses. While it may not be the most niche market, I find it incredibly rewarding to communicate directly with business owners and help them achieve their goals.
Knowing that I can make a difference in their success gives me a sense of fulfillment that keeps me motivated.
Finding clients
Finding clients as a digital nomad SEO freelancer can be challenging, but there are several effective strategies that you can use to find clients and grow your business. Here are a few recommendations:
Use social media:
Social media platforms such as LinkedIn, Twitter, and Facebook can be valuable tools for finding clients. Ensure your social media profiles showcase your skills and experience as an SEO freelancer and share relevant content showcasing your expertise. You can also join relevant groups and communities on these platforms to connect with potential clients and freelancers.
How I got my first clients:
When I first started my journey as a digital nomad SEO freelancer, I knew that finding clients would be a challenge. That's why I turned to social media platforms like Facebook to connect with potential clients. I wrote a post in a Facebook group, introducing myself and sharing my passion for SEO.
I was amazed by the response – the post received many likes and comments, and I even received private inquiries from potential clients. I still work with some of those clients to this day. This experience taught me the power of social media and the importance of being authentic when showcasing your skills and passion.
The post I published on Facebook: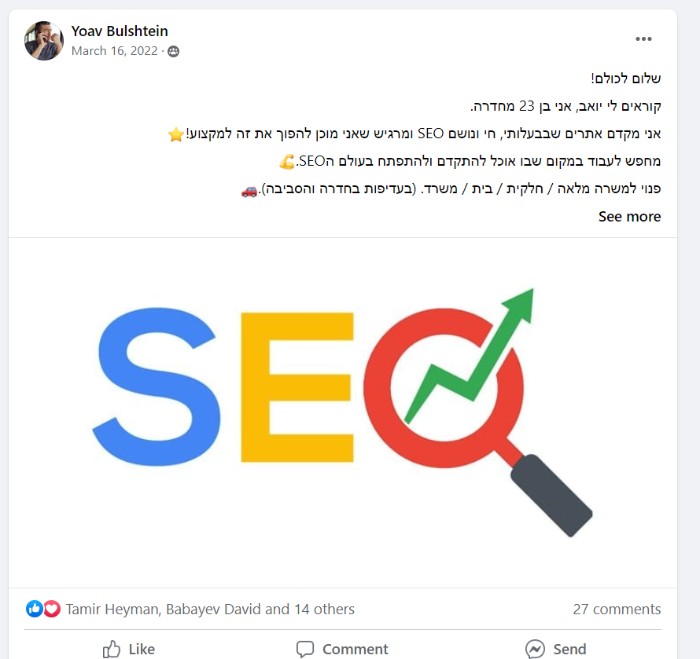 Attend events:
Attend conferences, meetups, and other SEO or digital marketing events. These events can be great opportunities to network with other professionals in your field and meet potential clients.
Quick tips for getting clients for SEO at events:
1. Don't appear desperate for work: Conferences and events can be great opportunities to find potential clients or work. However, it's important to avoid coming across as desperate. Instead, try to be confident and approachable. Listen actively and ask thoughtful questions to show your expertise and build rapport.
2. Highlight the problems you can solve: Instead of just pitching your services, focus on the problems you can solve for the potential client. This will help them see the value in working with you and make them more likely to hire you.
Join freelancer platforms:
Joining freelancer platforms such as Upwork, Fiverr, and Freelancer.com can be a great way to find clients as a digital nomad SEO freelancer. These platforms allow you to create a profile, showcase your skills, and bid on relevant projects.
Network with other digital nomads:
As a digital nomad, you will likely encounter other freelancers and entrepreneurs working remotely. Please use this opportunity to network with other digital nomads and learn from their experiences. You can also join online communities and forums to connect with other digital nomads and potential clients.
Transitioning to the Digital Nomad Lifestyle
When it comes to deciding the right time to transition to the digital nomad lifestyle as an SEO freelancer, it's important to understand that the answer may differ from person to person.
That being said, there are some key questions you can ask yourself to help determine if the digital nomad lifestyle is a good fit for you.
Am I comfortable with the idea of working remotely and managing my own schedule?
Do I have the financial resources to support myself while building my client base or during periods without clients?
Have I considered the potential challenges of working remotely, such as managing time zone differences, finding reliable places to work, and dealing with potential internet or equipment issues?
Do I have a strong network of clients willing to work with me remotely, or am I prepared to build this network from scratch?
How do I handle uncertainty and risk-taking?
Do I have the necessary skills and equipment to work remotely, such as a reliable laptop and a good internet connection?
You can better understand what it takes to build a successful career as an SEO freelancer and digital nomad by answering these questions.
Still not sure?
If you are still unsure about making the transition to the digital nomad lifestyle, one strategy is to take a small step and test the waters.
This could involve working remotely from another city in your country or taking a short trip to a nearby country. This will give you a taste of what it's like to work remotely and help you determine if it's a lifestyle you are comfortable with.
Choosing a destination and researching visas and regulations:
Once you decide to become a digital nomad, it's time to start exploring potential destinations and visas.
Consider factors like cost of living, quality of life, and access to reliable internet.
Additionally, you'll need to research the visa and regulatory requirements for each potential destination to ensure you're able to work legally and without interruption.
Why do I think Thailand is the best destination For SEO freelancers & experts:
Thailand is one of the best places to start your digital nomad journey, not just because it's affordable. The SEO industry is also relatively well-developed here, making it a great place to network and learn from experts.
When I first arrived in Bangkok, I prioritized attending several business and entrepreneurship meetings. I met some fascinating people with a wealth of knowledge and experience to share.
Chiang Mai is another city in Thailand that's a hub for digital nomads and SEO specialists. With a large and active community of SEO experts like Matt Diggity and Kyle Roof, interesting events and meetups are always happening.
I attended a few weekly meetings and even had the opportunity to participate in some events led by Kyle Roof himself. He walked us through his process for conducting SEO audits at his company, and then we were divided into teams to audit websites ourselves. It was an eye-opening experience that taught me there's always more to learn in SEO.
If I still haven't convinced you, take a look at what Matt Diggity has to say:
Finding suitable accommodations and workspaces:
As a digital nomad, your work and living spaces will be intimately connected. Research potential accommodations and workspaces to ensure they meet your needs. Look for reliable internet, comfortable workspaces, and other amenities to help you stay productive and focused.
Creating a routine that balances work and travel:
Finally, creating a routine that balances work and travel is important. This may require some trial and error as you figure out the best ways to manage your time and stay productive while on the road. Make sure to schedule in time for both work and leisure activities, and be prepared to adjust your routine as needed to accommodate new destinations and work demands.
Networking is the key!
Networking is a crucial aspect of both life and business. It allows individuals to connect with others who share similar interests or career paths, leading to growth, development, and collaboration opportunities. In the world of SEO, networking is just as important. It enables freelance SEO professionals to build relationships with others in the field, share knowledge and ideas, and potentially gain new clients.
One of the benefits of networking for freelance SEO professionals is the opportunity to create collaborations. By connecting with other SEO professionals, I've been able to form partnerships on projects that I might not have been able to take on alone. This has allowed me to expand my portfolio and increase my skills and expertise.
Networking has also allowed me to learn from my colleagues about SEO in different ways. SEO is a broad field, and everyone approaches it differently. I've gained new insights and perspectives on SEO techniques and strategies by connecting with others in the industry. This has helped me stay up-to-date on the latest trends and changes in the field, ultimately benefiting my clients.
In addition, networking has led to colleagues referring me to clients they can't work with. This has helped me expand my client base and take on new projects I might not have had access to otherwise. For example, I'm currently working with a client I met at the Digital Nomads Festival in Bansko. This connection wouldn't have been possible without networking and connecting with others in the industry.
Tips for maintaining a successful SEO business while being a digital nomad:
As a digital nomad running an SEO business, a few tips have helped me maintain a successful business while on the move.
Here are a few that I would like to share:
Treat it like a business:
When you're a freelancer, you're actually running a business, and it's important to treat it as such. This means keeping track of your finances, setting goals, and staying organized. I use tools like QuickBooks to manage my finances, and I make sure to set clear business objectives so that I'm always working towards something.
Say yes to everything in the beginning:
When I was starting out as an SEO freelancer, I said yes to every project that came my way. Even if the project wasn't exactly what I wanted to be doing, I took it on for the experience and the chance to build my portfolio. This approach helped me gain valuable experience and build a solid reputation within the industry.
Keep learning and growing:
As the SEO industry constantly changes, staying up-to-date on the latest trends and techniques is important. I attend conferences and workshops, read industry publications, and stay connected with other SEO professionals to stay ahead of the curve.
Establish a consistent routine:
One of the biggest challenges of being a digital nomad is maintaining a routine amidst constant change. However, establishing a consistent routine has helped me stay organized and focused on my business goals. I have a morning and night routine that I stick to, which helps me stay productive and motivated.
Last words + a little gift
I hope my tips and insights have been helpful to you, no matter where you are on your journey as a digital nomad SEO freelancer. If you've made it to the end of this article, I genuinely appreciate your attention and hope that I've provided some value to you.
If you have any questions or concerns about getting started in this field, please don't hesitate to contact me. I'm always happy to chat and offer any advice or guidance. And, to thank you for reading this far, I'm offering free consultations to anyone interested. Just message me, and we can talk more about your goals and how to achieve them.
FAQ
Can you work SEO Remotely?
Yes. SEO is a field that can be easily done remotely as long as you have a stable internet connection.
How much does freelance SEO make?
According to the latest data available (as of Mar 13, 2023), the average annual pay for a Freelance SEO in the United States is $63,781 a year. However, it's important to note that freelance SEOs can earn more or less than this, depending on their skills, experience, and clients.
Is SEO good for freelancing?
Yes, SEO is a great field for freelancing. As a freelance SEO, you can work with a wide variety of clients and industries, and you have the flexibility to work from anywhere in the world.
Is it worth being a digital nomad as an SEO freelancer?
Yes, being a digital nomad as an SEO freelancer can be a highly rewarding and fulfilling experience. You get to travel and work from anywhere worldwide while still earning a steady income. However, it's important to remember that being a digital nomad requires discipline, dedication, and hard work to maintain a successful business.
Improve your digital nomad skills
Become a Digital Nomad
To be my friend