I've been in Koh Phangan for 2 months, and I've loved every minute of it. The island has everything you could ever want in a digital nomad destination: beautiful beaches, a thriving expat community, and a laid-back lifestyle.
If you're looking for a place to escape the rat race and work from paradise, Koh Phangan is definitely worth considering.
In this blog post, I put you through all you need to know about living and working as a digital nomad in Koh Phangan, including tips, recommendations, and advice.
To save time, you can use the table of contents below to jump directly to the section that interests you most.
Visa Requirements
Before starting your nomad journey in Koh Phangan, you'll need to arrange a visa.
For those from most countries (including the US and UK), you can apply for a tourist visa on arrival. You'll need to present your passport, fill out the application form, two passport-sized photos, and pay the applicable fee.
Visa extension in Thong Sala, Koh Phangan
I did a visa extension in Tong Sala, which was super easy. (The process is faster than the visa extension I did in Pai).
Here is a short guide on how to extend a visa in Koh Phangan:
Requirements:
Passport with a valid visa
Completed TM.7 form
Completed STM. 2 form
Two passport-sized photos
1,900 baht fee
Steps:
Go to the Immigration Office in Koh Phangan.
Fill out the TM.7 and STM. 2 forms.
Pay the 1,900 baht fee.
Submit your passport, photos, and forms to the immigration officer.
Wait for your visa to be processed.
Collect your passport and visa.
Visa runs
When your visa extension expires, you will need to leave and re-enter Thailand on a new tourist visa or visa exemption. There are many ways you can go about this.
Speak with Mr. Kim. He has a shop in Thong Sala and offers numerous visa runs to the Malaysian border, including single-day runs for those who are eligible for visa exemptions. Or you can opt to get a tourist visa in Panang, Malaysia, and return in a few days.
Fly out to nearby countries. You can also fly out to nearby countries like Cambodia, Malaysia, Vietnam, or Myanmar and return with a fresh stamp.
Digital nomad visa
Thailand offers a visa for digital nomads called the Long-Term Resident Visa (LTR). This visa allows you to stay in Thailand for up to 10 years while paying only 17% tax.
The LTR visa is highly selective and has stringent restrictions, unlike other accessible options.
To be eligible for the LTR visa, you must:
Be a citizen of a country that has a reciprocal agreement with Thailand.
Have a valid passport.
Earn at least USD 80,000 per year.
Have medical insurance that covers you for at least USD 100,000.
Be able to prove that you have a remote job.
If you are eligible for the LTR visa, you can apply at the Thai embassy or consulate in your home country. The application process is lengthy and can take up to 6 months.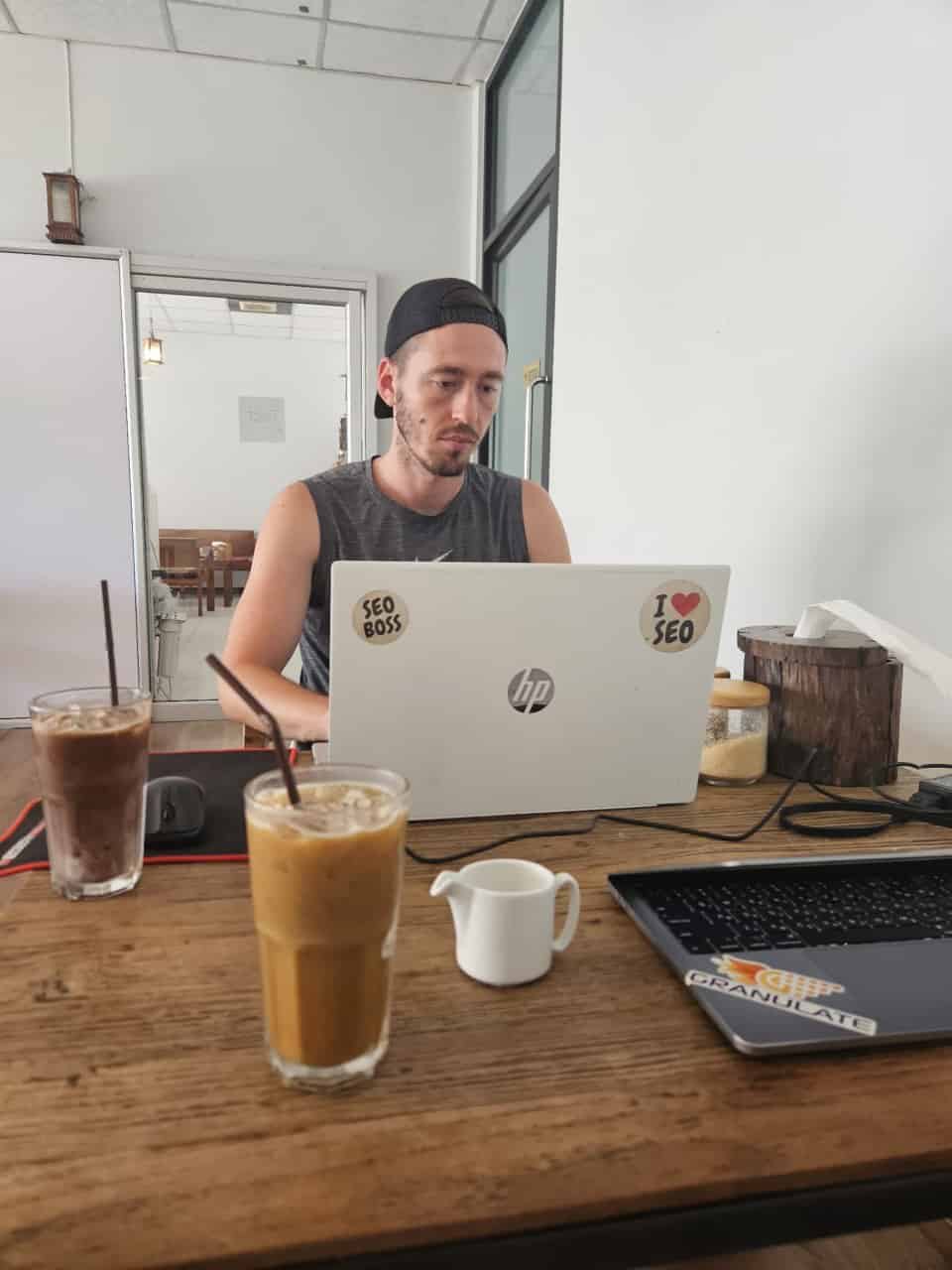 Where to Live as a Digital Nomad in Koh Phangan
Haad Rin: If you're looking for a lively and social atmosphere, Haad Rin is the place to be. This party capital is home to the world-famous Full Moon Party, which attracts thousands of people from all over the world. There are also a number of bars, clubs, and restaurants in Haad Rin, and it's a great place to meet other digital nomads.
Thong Sala: Thong Sala is the main town of Koh Phangan and a good option if you're looking for a more central location. There are plenty of restaurants, bars, and shops in Thong Sala, and it's also close to the airport. Thong Sala is also home to several co-working spaces, making it a great place to work remotely.
Chaloklum: Chaloklum is a quiet beachside village with a more relaxed and laid-back atmosphere. There are a few good restaurants and bars in Chaloklum, and it's also a great place to go surfing. Chaloklum is also home to some yoga and meditation studios, making it a great place to find a quiet and peaceful workplace.
Srithanu: Srithanu is a beautiful beachside village known for its yoga and meditation retreats. It's a great place to find a quiet and peaceful workplace. Srithanu is also home to a number of restaurants and bars, making it a great place to relax and unwind after a long day of work.
Hin Kong: Hin Kong is a small village located on the east coast of Koh Phangan. It's a great place to find a secluded and peaceful place to stay. Hin Kong is also home to several beaches and coves, making it a great place to relax and enjoy the natural beauty of Koh Phangan.
Hin Kong: This small village is located on the east coast of Koh Phangan. It's a great place to find a secluded and peaceful place to stay. Hin Kong is also home to several beaches and coves, making it a great place to relax and enjoy the natural beauty of Koh Phangan.
Co-working Spaces and Cafes
Here is a link to all the good co-working spaces and cafes in Koh Phangan. (Made by the DN WhatsApp group).
I was only on the island for two months, so I didn't visit all of them, but here are a few of my favorites:
Co-working spaces & Co-livings
Inner Space Co-working – (My favorite one)
Inner Space Co-working is a truly special place on this jungle island that I highly recommend. It effortlessly provides a warm sense of community, support, and fantastic staff.
The well-thought interior design creates an outstanding workspace where you can focus on your goals and tasks. The co-working space offers stunning views, delicious food, cinema screenings, invigorating yoga mornings, and 24/7 access. Not to mention, the local coffee flavor adds a delightful touch.
The atmosphere is perfect, with areas for relaxation, lively conversations, and comfortable workstations. The hosts are incredibly pleasant, always offering complimentary coffee. Moreover, you can enjoy a 10% discount at the hotel's restaurant and access amenities like the pool.
BeacHub is a beachfront co-working space with stunning views and a relaxed atmosphere. It offers a variety of workspaces, including private offices, hot desks, and meeting rooms. They also have a cafe, gym, and pool, making it a great place to work and relax.
La Casa Tropicana (By Remote & Digital)
La Casa Tropicana by Remote&Digital is a coliving and co-working space located in Baan Tai. It offers a variety of amenities, including a pool, gym, and rooftop terrace. This place is a great option for digital nomads who want to live and work in a supportive community.
Secret Place is a coliving and co-working space located in Haad Yao. It offers a variety of amenities, including a pool, gym, and yoga studio. Secret Place is an excellent option for nomads who want to work in a secluded and luxurious environment.
Remote-friendly cafes with reliable internet
Cookies Cafe is a delightful spot that I highly recommend for both its delicious food and peaceful work environment. The food here is adorable and incredibly tasty, making it a perfect place to refuel while working.
If you need a quiet space to focus, there is a calm area in the back where you can work in peace. However, it's worth noting that the outside seating area can be a bit loud due to the nearby street. Despite that, the overall ambiance and quality of the food at Cookies Cafe make it a great choice for combining work and dining.
Pure Vegan Heaven is an excellent choice for vegan food enthusiasts, offering an extensive and delicious menu. While the prices may be on the higher side, the variety and quality of dishes make it worth it.
When it comes to working, Pure Vegan Heaven provides a suitable environment. The space is quiet, air-conditioned, and offers good internet connectivity. However, it's important to note that the staff might not be overly friendly. Nevertheless, if you're looking for a vegan-friendly place to work with a peaceful atmosphere and reliable amenities, Pure Vegan Heaven is a solid option.
Indigo Cafe & Eatery Thongsala
Indigo Cafe & Eatery Thongsala is a fantastic coffee shop that offers a spacious and welcoming atmosphere. They have a wide selection of specialty coffees and delectable homemade pastries that are sure to satisfy your taste buds. The staff is exceptionally friendly, adding to the overall positive experience. It's a great spot to relax and unwind.
For digital nomads, the upper floor provides a convenient workspace. However, it's important to note that Wi-Fi usage has a two-hour limit. If you plan to work longer, you'll need to order something from the menu.
Average Monthly Cost of Living in Koh Phangan (in USD)
Here's a table summarizing the average monthly costs for a digital nomad in Koh Phangan:
| Expense | Cost Range (USD) |
| --- | --- |
| Accommodation | $200 – $1,000+ |
| Food and Groceries | $200 – $400 |
| Eating Out | $100 – $200 |
| Transportation | $50 – $100 |
| Utilities | $50 – $100 |
| Internet | $30 – $50 |
| Coworking Space | $100 – $200 |
| Fitness/Gym Membership | $30 – $50 |
| Entertainment/Leisure | $100 – $200 |
| Miscellaneous | $100 – $200 |
| Total | $960 – $2,500+ |
Please note that these approximate cost ranges can vary depending on personal preferences and lifestyle choices.
Here is a breakdown of some of the average monthly costs:
Accommodation: Accommodation in Koh Phangan can be found in various price ranges. Hostels are the most affordable option, with monthly rooms starting at around USD 200. Private apartments and bungalows are more expensive, with prices starting at around $500-1,000 USD per month.

If you are not sure which type of accommodation is right for you, I recommend checking out my post about hostel vs. apartment. In this post, I discuss the pros and cons of each type of accommodation and help you decide which one best fits your needs.

Food: If you live only from the street food stalls, you can spend around USD 200 monthly. If you eat at fancier restaurants, you're looking at about $500-600 USD.

Transportation: Scooters are the most popular mode of transportation in Koh Phangan. You can rent a scooter for around $100-80 per month.

Activities: There are many free and low-cost activities on Koh Phangan, such as hiking, swimming, and exploring the island. However, you can expect to spend more money if you want to go out to a party or do other activities.
How To Meet Nomads In KP?
Koh Phangan is a great place to meet Interesting nomads. I was able to connect with like-minded people on a deep level, beyond boring small talk.
Here are some tips on how to meet other nomads in Koh Phangan:
1. Join WhatsApp and Facebook groups dedicated to digital nomads in the area. These groups are a great way to connect, ask questions, and find out about events.
2. Follow the events section on Facebook to stay updated on meetups, workshops, and networking events specifically for nomads.
3. Like in every DN destination, you can join a co-working space which is the best way to meet other digital nomads.
4. Stay in the hostels. If you are an introvert like me, you might find it a bit hard to go out and socialize with strangers. However, staying in hostels is easy for nomads and travelers to meet new people.
Hostels are typically very social places, with common areas where guests can relax, chat, and play games. They also often offer organized activities like pub crawls, hiking trips, and cooking classes. By choosing a hostel, you can open yourself up to opportunities to meet other like-minded people.
Tips For Digital Nomad Living in KP
1. Be prepared to encounter the occasional power outage and internet issues.
2. Make sure you have enough money with you, as some shops may not accept credit/debit cards.
3. Koh Phangan has no Bolt or Grab, so you'll need to take a taxi or rent a motorbike.
4. Store your valuables in a safe place, and don't forget to lock up your belongings when you leave the house.
5. Take advantage of all the island has activities, such as yoga, muay thai, or scuba diving.
6. Take some time to explore the island and its beauty – you won't regret it!
7. Get a local SIM card. This will give you access to a local phone number and data plan. You can purchase a SIM card at 7-Eleven and other convenience stores.
8. Be prepared for the heat and humidity. Koh Phangan is a tropical island, so the weather can be scorching and humid. Make sure to pack accordingly and drink plenty of fluids.
9. Withdraw money from the bank's branch. This is the most surefire way to avoid ATM fees. Most banks do not charge fees for withdrawals made at their branches. This can save you some money in the long run, especially if you make frequent withdrawals.
Recommended Resources
WhatsApp groups:
Thanks again for the DN groups.
Guides For Koh Phangan: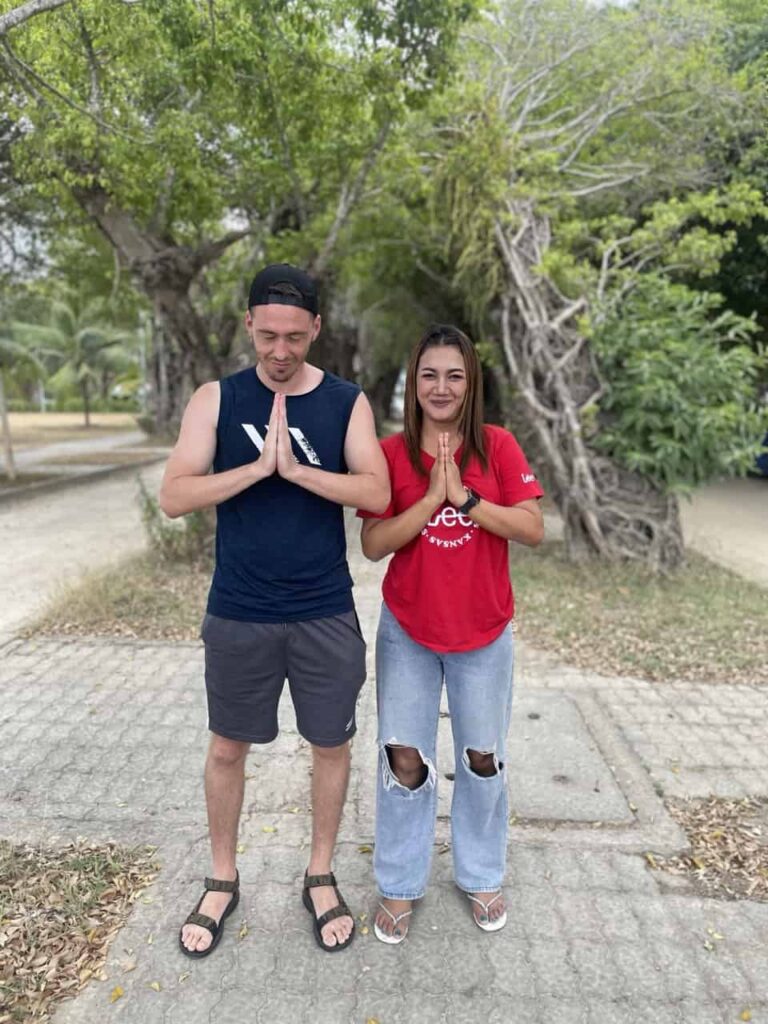 My Personal Experiences
I needed a break from the hustle and bustle of Bangkok and Da Nang, so I decided to visit Koh Phangan. I was craving nature and wanted to explore the "yogi" world, so I was excited to find my way to this beautiful island.
I stayed at the Prachan Hostel, which was a great choice. The nightly rate was 300 baht, but I got a 10% discount by asking nicely and booking a long stay. Hostels are a great option for accommodation in Koh Phangan, as they are relatively affordable.
The hostel was conveniently located in Thong Sala, the central city of Koh Phangan. There were plenty of places to eat and work in this area, but I must admit that Thong Sala lacked the natural beauty I was seeking.
Many workshops and meetups I wanted to attend were held in Sritano, so I rented a scooter 3-4 days a week to explore and participate in these events.
I found a scooter rental place that offered affordable rentals at just 150 baht. They are open to working something out if you ask them for a discount. I even managed to rent a scooter for as low as 100 baht when I took it for more than two days. Here is the link to the place.
I discovered a good outdoor gym that allowed me to train without the need for a traditional gym membership. It was the perfect fit for my desire to stay active amidst the island's natural beauty.
Here are some of the highlights of my trip:
Hiking to the top of Khao Ra for stunning views of the island
Attending a yoga retreat at a beautiful beachside location
Relaxing in a traditional Thai massage
Playing football with locals and expats
Trying all the delicious Thai food
Visiting the full moon party
I also rented a co-working space and led an SEO workshop for beginners. It was a great experience to share my knowledge and help others learn.
Want to learn how to become a digital nomad SEO freelancer? Check out my guide!
Overall
I highly recommend Koh Phangan to any digital nomad looking for a magical destination. The island has much to offer, from beautiful beaches to co-working spaces and networking events. So go ahead and plan your trip – you won't regret it!
Improve your digital nomad skills
Become a Digital Nomad
To be my friend