Hello, and welcome to my guide on how to use the Grab app.
As someone who has spent a significant amount of time in Bangkok, and used the Grab app on a daily basis, I have learned a thing or two about how to use the app effectively and save money in the process.
This guide is intended for those who already have a basic understanding of how to use the application and are looking to take their knowledge to the next level.
Inside, you'll find a collection of tricks, tips, and solutions to common problems that I've encountered during my own use of the Grab app in the Eastern countries of Asia and in geographies beyond.
So whether you're a local or a digital nomad who wants to save some money, I'm sure you'll find something of use in this guide.
Saving Money with Grab:
Grab offers various discounts and promotions to help you save money when using their app. I sorted for you the most important ones that you should take advantage of when using Grab.
Loyalty program: If you use Grab regularly, you should join their loyalty program. This will give you access to exclusive discounts and promotions that can help you save money each time you take a ride.
Promo Codes: Grab often releases Promo codes for special offers or discounts. You can either find these codes online or through the Grab app itself.
Compare prices: Before booking a ride, compare the prices of different transportation options available on the app to find the cheapest option.
Use GrabPay: Paying for your rides using GrabPay, Grab's digital wallet, can earn you discounts and cashback rewards.
Use GrabShare: Consider sharing your ride with another passenger heading in the same direction to split the cost of the trip.
Avoid peak hours: If possible, avoid booking rides during peak hours when prices are higher.
Use GrabForWork: If you are a business or company, use GrabForWork to manage your company's transportation expenses and get discounts.
Take advantage of special offers: Keep an eye out for special offers and deals in the app, such as discounts for first-time riders or loyalty rewards for frequent users.
Grab Subscriptions – If you take multiple rides each month, consider signing up for a Grab subscription. This will give you access to exclusive discounts and promotions.
How to change the language on Grab
When using the Grab app in Eastern countries of Asia, like Vietnam, Thailand or Indonesia, it's common to find that most of the items, such as menu options, products, food, and drink, are listed in a foreign language, which can make it difficult for English speakers to navigate the app.
One way to overcome this language barrier is by using the screenshot and translation feature on Google Translate.
1. To use this method, first, take a screenshot of the item you want to translate within the Grab app.
2. Next, open the Google app. Select the "Camera" icon within the app to upload the screenshot you just took.
3. Identify the language of the text in the screenshot and select your desired language to translate it to.
Now you can read the translation and understand the options available in the Grab app. This can be a helpful way to navigate the app if you're struggling with the language, and it can make it easier to find the right transportation option or service you need.
Check out my how-to video for a visual guide on using Google to navigate the Grab app:
Grab app: common problems and solutions
I've put together common problems and possible solutions that I've experienced or heard from other users when using the Grab app.
Grab app stuck at the loading screen.
If the Grab app is stuck at a loading screen, there are several steps you can take to try and fix it.
1. Check your internet connection and make sure that it is stable and secure.
2. Clear the app's cache.
3. Re-install the app as a last resort. This should help clear any issues that may have been causing the loading screen to freeze up.
Grab app not sending code.
If you're having trouble receiving the code to verify your Grab account, there are several steps you can take to try and fix it.
1. Check if the phone number is correct and up-to-date.
2. Make sure that you are connected to a stable internet connection.
3. Check if your phone is blocking any messages from unknown numbers.
4. Try using a different device, such as a tablet or laptop.
5. If you still have issues, contact Grab customer support for help.
Grab app keeps crashing.
If the Grab app is crashing, there are several steps you can take to try and fix it.
1. Check if your device is up-to-date with the latest software update.
2. Clear the app's cache.
3. Check if any other apps are running in the background that might be causing conflicts with the Grab app.
4. Try restarting your device to see if that helps.
5. Contact Grab customer service for help.
These steps should help you troubleshoot any issues you're having with the Grab app so that you can get back to using it hassle-free!
Grab app not accepting credit card / cannot add credit card.
If you're having trouble paying for your rides with a credit card, there are several things you can try in order to fix the issue.
1. Make sure that all the information entered is correct and up-to-date. Double-check everything from your address and phone number to your payment details.
2. If possible, try using a different credit card or the payment method.
3. Contact your bank to ensure no restrictions on the card you're trying to use.
4. Verify that your internet connection is working properly and isn't causing any issues with the payment process.
5. Check if your browser or device is blocking any third-party cookies.
6. If you're still having issues, contact Grab customer support for help.
These steps should help you resolve any issues with trying to pay for your rides on the Grab app. With these tips, you can be sure to have a smooth and hassle-free transportation experience every time.
FAQ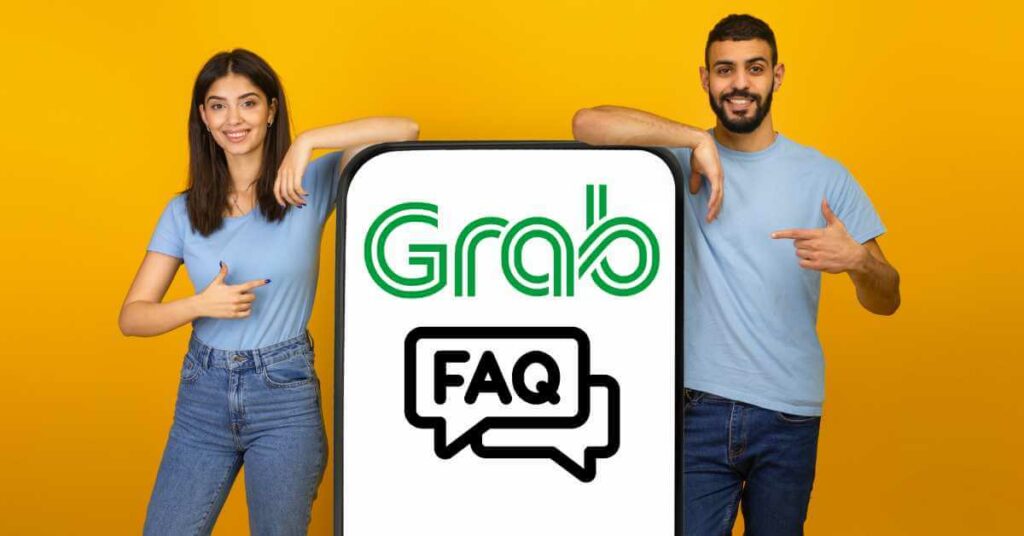 Is the grab app safe?
Yes! Grab is a very safe and secure transportation app. All of its drivers are thoroughly vetted before being hired, and it uses several layers of security to protect your personal information. It also has special features like GrabShield, which provides an extra layer of protection for both passengers and drivers, as well as emergency assistance in case of accidents or emergencies.
How to get a receipt from the Grab app
You should receive a digital receipt after every service you take to your email address. Verify your email address and check your junk mail folder if you didn't receive it. If you can't find it in either of these locations, contact Grab customer service for help.
Can I use the grab app without a phone number?
Yes! With a local sim card, you can use the Grab app without a personal phone number. All you need to do is enter the local sim card's information when setting up your account. This will allow you to use the Grab app without having to use your phone number.
How to change the grab app to dark mode?
To turn on Dark Mode in the Grab app, open the app and go to Settings. Then select the option for "Dark Mode" and toggle it on. This will turn all of your screens, menus, buttons, and text into a darker color palette so you can easily see them even in low-light conditions.
Improve your digital nomad skills
Become a Digital Nomad
To be my friend