If you just landed on my blog, nice to meet you! My name is Yoav. I'm an SEO geek and a lazy digital nomad from Israel. In recent years, I've worked as an SEO freelancer with marketing companies and private clients. I also have digital assets based on SEO (Like the cool digital nomad blog you are reading now).
Today, I want to share how to become an SEO freelancer from my experience to help you gain more insights and understanding. So if you want to get into the SEO industry as an independent contractor, this post is for you.
What is SEO Freelancer?
First, let's get things in order. The world of SEO is big and includes many buzzwords you need to understand.
An SEO freelancer is someone who specializes in optimizing websites for search engine results, also known as search engine optimization (SEO).
SEO Freelancers are hired by companies or clients looking to maximize their presence online through organic search traffic.
Some of the leads I get (Translated from Hebrew to English).
Is it worth starting an SEO Freelance career?
That's a GOOD question!
Before diving into any career or business venture, it's important to ask yourself one question: What is your "why"?
Do you want to help people grow their businesses?
Do you want the freedom to work from anywhere in the world?
Do you want to make extra money on the side?
Remember, your "why" will serve you on the tough days when a client's site drops in the search results or you can't seem to get the rankings up no matter what you do.
Related: Why Freelance Jobs Are The Best For Digital Nomads
How to become a freelance SEO?
Now that you know what SEO freelancing is and why it's worth it, let's move on to the HOW.
Learn the basic
If you are a complete beginner with SEO, you'll want first to learn the basics of SEO. I recommend taking an online course on SEO. You can find great and affordable courses on Udemy or Skillshare to get started.
After you have the basics, You may not yet have the confidence to take on clients and projects. Here are some more steps you can take before getting your first client:
Work for free or for a nominal fee:
"Working for free, what are you crazy?!" I know I hear you. But if you're just starting out and don't have experience, working, for example, with an SEO agency, can actually teach you a lot and get you more experience. You can gain hands-on experience by working with clients, seeing the ups and downs in SEO, and learning how to take action.
That's how I started. I would work as a freelancer with marketing companies, helping them with their SEO tasks. During that time, I learned a lot and also made valuable connections in the industry.
Take a mentor:
It's an expensive option, but an experienced mentor can save you a lot of time in learning the ins and outs of SEO. A mentor can help you with anything, from dealing with clients to finding better ways to do things.
Join SEO Mastermind:
If a mentor is an expensive option, a mastermind is an even better one. In a mastermind, you get to connect with other SEO professionals and exchange ideas on the best strategies and tactics for getting great results in SEO. These can be invaluable when it comes to learning from others who have done it before and seeing what works and what doesn't.
Determine which clients you want to work with
I recommend not being a freelancer for everything. Think about who you want to work with and specialize in that area.
Are you interested in helping small business owners? Do you have a passion for e-commerce sites? What about larger companies? Or maybe startups?
Every niche has its own nuances and challenges. And in addition, when you determine the target audience, you will know where to find them.
For example, I like working with small businesses. That's why I'm focused on building my expertise on Facebook, as this is where my clientele is. If I wanted to work with startups, I would focus on LinkedIn.
Get the first customers
After you have gained some experience, it's time to get your real first clients. But before we get to the marketing channels. There is some principle I want to bring up:
Don't start your SEO freelancing on Fiverr or Upwork. These platforms are great for getting some initial work and building your portfolio, but they can be very competitive. It can take months to land your first client, and you'll often be competing with freelancers who are willing to work for very low rates.
People buy from people: As a freelancer, you are the face of your business. Show yourself, and don't hide behind a logo or a cool company name.
Consistency is the key: Whatever channel you use to find your first clients, be consistent with it.
Choose one or two platforms and focus on them.
Now, let's get to the marketing channels:
Facebook
Facebook works best for me. Through Facebook, I got my first clients, and I'm still getting more and more clients from it. In addition, the clients I get from Facebook are the clients I like working with the most.
Facebook is great for freelancers who want to work with one-man show businesses. You can find a lot of entrepreneurs and small business owners there looking for services you offer, such as SEO and digital marketing.
To make the most of Facebook, here are a few tips:
Use your personal profile, not a business page. Business pages don't get as much exposure on Facebook as personal profiles. This is because Facebook's algorithm prioritizes content from people's personal profiles. So, if you want to get more views and engagement on your Facebook posts, use your personal profile.
Be yourself and connect with people on a personal level. People are more likely to buy from people they know and trust. So, be yourself and connect with people on a personal level. Share your thoughts and experiences, and ask questions to get to know people better.
Share helpful content and answer questions in groups. This is a great way to build relationships with potential clients. When you share helpful content, you show people you know what you're talking about. And when you answer questions in groups, you show people that you're willing to help.
How I got my first clients from Facebook:
When I first started out, I didn't have any experience or clients. I knew I needed to get my name out there somehow, so I turned to social media.
I joined a few Facebook groups for small business owners and entrepreneurs. In one of the groups, I posted a message introducing myself and sharing my passion for SEO.
My post received a lot of positive feedback, and I received private messages from potential clients. I ended up doing free SEO audits for a few of these businesses, and they were so impressed with my work that they hired me to do ongoing SEO for them.
This experience taught me the power of social media and the importance of being authentic when showcasing your skills and passion. If you're looking to get your first clients as an SEO freelancer, I highly recommend using social media to connect with potential clients.
The post I published on Facebook: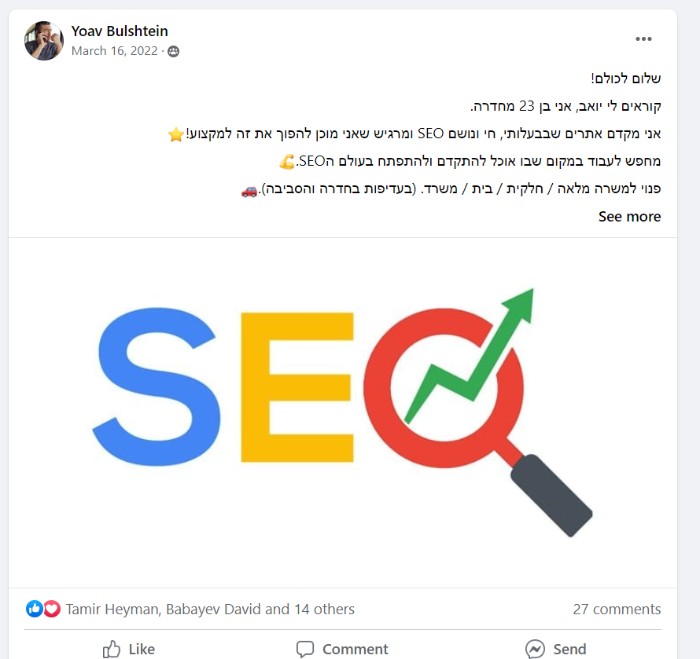 Linkedin
I'm not that active on LinkedIn because the clients I want to work with are not there. But, if you are looking to work with companies and agencies, then LinkedIn can be great for you.
Here are a few tips to make the most of Linkedin:
Create a detailed profile. Make sure you have an up-to-date profile with your current skills and experience.
Join relevant groups and participate in discussions. Participating in conversations is a great way to build relationships with potential clients.
Connect with new people and build relationships. Reach out to potential clients and start a conversation.
Even though I'm not active on LinkedIn, I still get inquiries from there because of my profile. Like this one:
YouTube
I like YouTube because I like making videos, and getting exposure is very easy. YouTube is also a great marketing channel for SEO Freelancers because you can make "how to" videos related to SEO.
Here are a few tips to make the most of YouTube:
Create videos that people want to watch. Make sure you create videos that your audience will find valuable and helpful.
Use keywords in titles, descriptions, and tags. This is an important part of getting exposure on YouTube. If you target the right keywords, your videos will appear in search results, and people can watch them.
Promote your videos on other platforms. Once you have created some videos, be sure to share them on your social media accounts and other channels so they get more views.
I don't want to make you scattered by mentioning too many marketing channels. Find the one or two that are ideal for you and focus on them. The most important thing is to be consistent and show up every day.
Golden tips for SEO freelances
As a digital nomad running an SEO business, a few tips have helped me maintain a successful business.
Always work with a contract
A contract will protect you in terms of payment, deliverables, and more. It also shows professionalism to your clients and makes them more likely to take you seriously.
Some people might worry that asking for a contract will scare away clients. But the truth is, if a client doesn't want to work with you because you want a contract, then they're not a client you want to work with anyway.
A contract is simply a way of setting expectations and protecting yourself. It's not personal, and it's not a sign that you don't trust your client. It's just good business.
Add more services
You can add services like local SEO, content marketing, and website auditing to your offerings. This will help you stand out from other freelancers and increase your chances of getting more clients.
There is no shame in taking a mentor
If you are really a beginner SEO freelancer, it means that you are new to business and new to SEO.
It is perfectly okay to take help from an experienced mentor. It will save you from making costly mistakes and also accelerate your learning curve.
You set the price
Even at the beginning, it is important that you set the price yourself. When you let your customer set the price, you are accepting the lower end of the spectrum.
Community!
Find a community of people who do the same thing as you. Being part of a community will help you to find clients, get ideas for your business, and stay inspired.
You can join online communities like SEO Facebook Groups or local meetups where SEO professionals gather to exchange ideas. It's also a great way to make connections with potential customers.
I have learned and continue to learn from the communities I am part of, and I know they are invaluable to my growth as an SEO freelancer.
Treat it like a business
When you're a freelancer, you're actually running a business, and it's important to treat it as such. This means keeping track of your finances, setting goals, and staying organized.
What is your next step?
Great, you've read a super guide on how to start SEO freelancing. Now it's time to take action!
If you are still not sure how to start, feel free to contact me. I'm more than happy to share my experience and help you out.
FAQ
Can you work SEO Remotely?
Yes. SEO is a field that can be easily done remotely as long as you have a stable internet connection.
How much does freelance SEO make?
According to the latest data available (as of Mar 13, 2023), the average annual pay for a Freelance SEO in the United States is $63,781 a year. However, it's important to note that freelance SEOs can earn more or less than this, depending on their skills, experience, and clients.
Is SEO good for freelancing?
Yes, SEO is a great field for freelancing. As a freelance SEO, you can work with a wide variety of clients and industries, and you have the flexibility to work from anywhere in the world.
Is it worth being a digital nomad as an SEO freelancer?
Yes, being a digital nomad as an SEO freelancer can be a highly rewarding and fulfilling experience. You get to travel and work from anywhere worldwide while still earning a steady income. However, it's important to remember that being a digital nomad requires discipline, dedication, and hard work to maintain a successful business.
Improve your digital nomad skills
Become a Digital Nomad
To be my friend