Tbilisi for digital nomads, what a pleasant surprise for me! Georgia, in its entirety, simply amazed me during my two-month stay with its stunning and untouched nature, budget-friendly living expenses and the friendly locals who welcomed me with open arms.
This incredible country offers everything you could wish for – from well-equipped workspaces to vibrant communities of nomads and expats, all set in a modern city. And the best part? Tbilisi maintains its own distinct charm as a peaceful and laid-back metropolis, a refreshing break from the bustling city life found elsewhere.
Let's dive into everything I learned about this enchanting destination!
Currency, Cost of Living, and Visa
The currency used in Tbilisi is the Georgian Lari (GEL), with an exchange rate of approximately 2.59 GEL to 1$ (as of the time of writing). 
Credit cards are widely accepted, making it convenient to track expenses. While credit works fine in most places, it's advisable to have cash on hand when using taxis or venturing to remote villages.
Cost of Living in Georgia – Exploring Monthly Expenses in Tbilisi
Delving into the cost of living in the captivating country of Georgia, particularly in Tbilisi, provides a comprehensive understanding of the budget-friendly lifestyle this remarkable destination offers.
Let's delve into a detailed breakdown of monthly living expenses in Tbilisi, Georgia:
Accommodation: Finding a cozy Airbnb or Booking an apartment close to the Old City or the bustling city center will likely require a budget of around $760.
Culinary Delights: To savor the diverse culinary delights that Tbilisi boasts, earmark approximately $440 for food and drinks during your stay.
Affordable Transportation: Navigating the city is surprisingly affordable, with approximately $55 covering your travel expenses.
Exploration and Adventures: Allocate an additional $55 for tours and activities, allowing you to immerse yourself in the wonders of this enchanting city.
Connectivity: Stay connected with the convenience of the Airalo SIM. This innovative solution enables you to purchase an eSIM, eliminating the need for a physical plastic SIM card. With the flexibility to buy online and use it across the entire European continent, you can select a plan that aligns with your needs. During my stay, I opted for a $20 plan, but the choice is yours.
Miscellaneous Experiences: Factor in approximately $65 for miscellaneous expenses, including access to coworking spaces, visits to hairdressers, and enjoying gym facilities.
In totality, crafting an estimated budget for your time in Tbilisi would amount to around $1400. This well-rounded budget is designed to ensure your experience is both comfortable and enjoyable, granting you the opportunity to fully embrace the unique charm of Tbilisi while considering the cost of living in Georgia.
Visa:
One of the most extraordinary perks for nomads is the generous tourist visa policy. You can also apply for a digital nomad visa and enjoy additional tax benefits. You will be taxed no more than 1% on everything under 150k USD
P.S. – If you want to know more about Tax Considerations, you can find here all the information.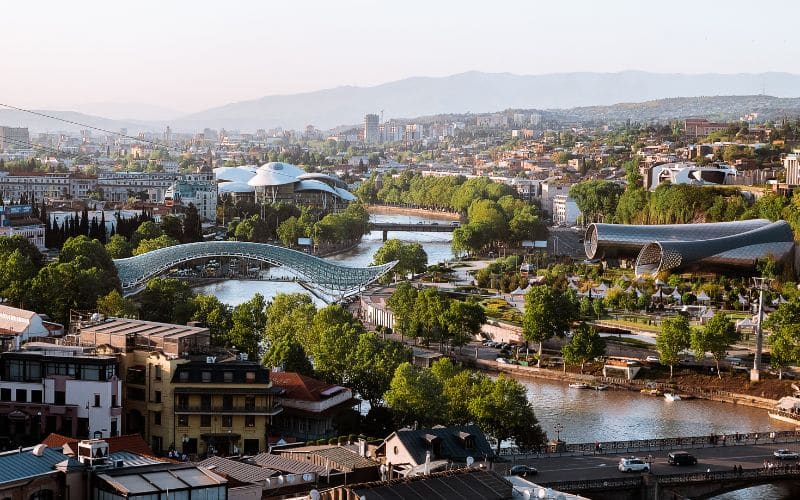 Where to stay in Tbilisi as a Digital Nomad
When it comes to finding the ideal place to stay as a digital nomad in Tbilisi, you've got some fantastic options to consider. Whether you prefer the bustling city center or the quieter outskirts, Tbilisi offers accommodations to suit every taste and budget.

1. Old city & The Modern center
If you want to find a place close to bars, restaurants, and most importantly, some coworking places, your best options are the Old City (near Freedom Square) or the Modern Center.
You'll love both areas for their top-notch connectivity and a wide array of great restaurant choices, and lively nightlife scenes. It's the perfect blend of convenience and excitement.

I spent my first week in Fabrika Hostel & Suites.  All the area around is excellent, and I suggest looking for some places to stay there.

Fabrika Hostel & Suites was a perfect place to land and adjust to the city. It offered a fantastic courtyard filled with various cafés, bars, artistic studios, workshops, and concept stores, creating a vibrant and creative atmosphere. The co-working space was a great convenience for my work, and being close to Marjanishvili Metro Station made exploring the city a breeze. It indeed was a great start to my two months stay.

After the first week, I found this nice apartment: Genius 7 Tbilisi.
It was really great place for my needs and close to everything.

2. More areas to check
I didn't actively search for apartments in these areas. However, I did receive recommendations from the locals I met, so it might be worth considering them during your search.
VAKE-SABURTALO neighborhood: A 15-20 minute drive from the city center. There are parks, pharmacies, a supermarket, a shopping mall and everything you need. An excellent area for families, and you can tell by the work that many ex-pats settle here. 
Mtatsminda / Vera / Rustaveli: A great alternative closer to the old city, offering a pleasant neighborhood feel without being too touristy. It will be more expensive than Vake but not too much. There is a smaller inventory of apartments, but it's worth looking at!
Exploring these various neighborhoods will help you find the perfect base during your stay in Tbilisi, catering to the needs and preferences of digital nomads and even expats alike. And if you're wondering, "Where do most expats live in Tbilisi?", these highlighted areas tend to be popular among the expatriate community as well.
Digital Nomads Social life&CoWorking spaces in Tbilisi
Tbilisi emerges as a haven for digital nomads, offering a thriving ecosystem of coworking spaces alongside a vibrant and expanding community. The task of choosing a coworking space tailored to your specific needs holds paramount importance, and I'm here to guide you toward the ideal choice.
Here are my recommended workspaces:

Terminal: Embark on your professional journey at Terminal, a sprawling complex boasting an impressive network of five locations. Terminal is designed to cater to diverse needs, whether you seek private workspaces that foster concentration or well-equipped meeting rooms for collaborative ventures.
Lokal: Renowned for its robust and professional community, Lokal offers a distinctive co-living experience intertwined with coworking facilities. Immerse yourself in an environment that encourages networking and skill-sharing, ensuring your time spent here is both productive and socially rewarding.
As you traverse the dynamic landscape of Tbilisi's coworking scene, these recommendations serve as a starting point in your quest for the perfect workspace. Each space carries its unique ethos, enabling you to align your professional aspirations with a conducive environment that resonates with your ambitions.
During your time in Tbilisi, you can also make the most of your social life by exploring the city's offerings. Engaging with the local scene can be facilitated by utilizing a dating app for digital nomads, helping you connect with like-minded individuals who are also navigating the nomadic lifestyle.
Tbilisi for Digital nomads – The location
Tbilisi serves as an excellent base for nomads and families to explore the country's eastern side. During my two-month stay, I thoroughly enjoyed the beauty of Tbilisi. Beyond the city's limits, I discovered numerous captivating destinations to explore, such as Kazbegi in the north, Talabi in the east, and Borjomi in the west.
Best Time to Visit
July and August mark the peak of the hot season in Tbilisi, attracting many tourists, resulting in higher prices. If you're looking for a more relaxed and less touristy experience, consider visiting in April, May, October, or November. However, if you don't mind the cold, Tbilisi's charms extend to all months of the year.
6 Must-Do Activities in Tbilisi
ATV Trip: The trip I enjoyed the most was an ATV trip near the city. We drove along mountain paths, crossed rivers and streams, and stopped to appreciate views that are not possible from a car.
Narikala Fortress: The most famous fortress in Georgia is at the top of the hill overlooking the city. You can go up there on a walk or take the cable car. We went up by cable car and went down on a walk. The way down is less rough and goes through alleys and streets in the old city.
Peace Bridge: A famous bridge mainly because of its shape, the bridge leads to a small and modern park on the other side (rike park), with cafes, fountains, and in general, a nice place to walk. 
The Old City and Clock Tower: The old city area requires a few days of walking. There are many alleys to discover, restaurants, and more. You will also find there the unique clock tower that looks like it came out of a fairy tale.
Mtatsminda Park: A huge park awaits you at the summit of Mount Mtatsminda, where, in addition to cafes and plenty of greenery, you'll find an amusement park featuring a giant wheel, a roller coaster, enchanted castles, and other exciting facilities. There are also restaurants and food stalls, making it easy for you to spend a delightful half-day there. You can reach the park either by car or by taking the funicular in the city center.
The Botanical Garden: A huge garden full of nature, flowers, and even a waterfall! If you want to relax in the city and surround yourself with nature, this is the place.
Tbilisi for digital nomads – Day Trips from Tbilisi
Tbilisi serves as an excellent starting point to explore the eastern side of Georgia:
North – Kazbegi and the military road
Heading north from Tbilisi for about 3 hours, you will reach the mesmerizing mountainous region of Georgia known as Kazbegi. Along the way, the military road offers several key points where you can make delightful stops and soak in the stunning landscapes. I met a friend there, so our experience in Kazbegi was one of the best during our time in Georgia. We decided to hire a private driver for $80 per day and spent four whole days exploring the breathtaking mountains.

East – Talabi wine region and Sigangi
Located about two hours east of Tbilisi, you will discover the captivating wine region of Georgia. As you travel from the north, the landscape transitions from towering, snow-capped mountains to endless rolling green hills. This region is a haven for wine enthusiasts, offering delightful wine tastings and the chance to indulge in leisurely nature walks amidst picturesque surroundings.
Don't miss the charming old town of Sighnaghi, which adds to the region's allure.
West – Borjomi
Halfway between Batumi and Tbilisi, you will find Borjomi region. The city itself has a very popular huge park (too popular for my taste) and sulfur pools, and about an hour away is Vardzia, an ancient cave city and one of the special attractions in Georgia. 
Last word
I had an amazing time in Tbilisi. It's a beautiful city with a rich history and culture. The people are friendly and welcoming, and there's always something to do. As a digital nomad, sometimes it can feel a little bit lonely, but somehow Tbilisi makes it easy to cope with.
I would definitely recommend visiting Tbilisi to anyone looking for a unique and unforgettable travel and working experience.
Where do most expats live in Tbilisi?
Most expats prefer to live in areas like Vake, Saburtalo, and Vera in Tbilisi. These neighborhoods offer a good balance of modern amenities, access to public transport, and a welcoming community of fellow ex-pats.
Is Tbilisi Safe?
Tbilisi is generally considered safe for tourists and expats. The city has a low crime rate compared to many other major cities. However, like any place, it's essential to stay vigilant and take common-sense precautions, especially in crowded areas and tourist spots.
Is Tbilisi cheap to live in for digital nomads?
Yes, Tbilisi is known for its affordability, making it a budget-friendly destination for digital nomads and expats. The cost of living in Tbilisi, including accommodation, food, and transportation, is relatively low compared to many Western cities.
Improve your digital nomad skills
Become a Digital Nomad
To be my friend