Da Nang, a city located in central Vietnam, may not be the first location that comes to mind when thinking of a hub for digital nomads. However, despite a lack of co-works, this city is quickly becoming a popular destination for remote workers.
With a growing number of cafes offering fast Wi-Fi and a relaxed atmosphere, Da Nang is proving to be a viable option for those seeking a change of pace from the typical bustling metropolis. Whether it's for a quick work-cation or an extended stay, Da Nang's combination of stunning natural beauty and modern conveniences makes it an ideal location for digital nomads.
I stayed in Da Nang for one month (My visa was for 35 days) and absolutely loved it. During my stay, I was able to explore the city and its surrounding areas by motorbike, meet more digital nomads, get some dates from bumble, and find nice cafes and coworking spaces to work in.
In this guide, I'll be summing up the best cafes and coworking spaces to work, how to meet new people, recommendations of things to do in the area, and some practical information about how to get around. So, let's start!
3 Top Cafes for Digital Nomads in Da Nang
I highly recommend KAKAO KAFE. During my time in the city, I spent most of my work hours there and was consistently impressed with the quality of the coffee, the fast 5G internet, and the friendly staff. The place also offers a variety of seating options, including comfortable chairs and the option to sit outside, making it a great spot to set up camp and get some work done.
Location: 31 Nguyễn Công Sáu, Phước Mỹ, Sơn Trà, Đà Nẵng 550000, Việt Nam
I was impressed. The coffee shop has a wide variety of coffee options and delicious desserts. The space itself is large, with three floors and a variety of seating options, including different types of chairs, which is great for digital nomads. (My back appreciated the comfortable seating). The coffee is relatively expensive, but the quality is worth it. The internet connection is stable and fast, making it a great spot for working remotely.
Overall, I also recommend LION COFFEE for anyone looking for a great cup of coffee and a comfortable place to work.
Location: Lô 38 Phạm Văn Đồng, An Hải Bắc, Sơn Trà, Đà Nẵng 550000
Der'Morgen Beverage & Coffee Shop is a great spot to grab a cup of coffee and get some work done. The atmosphere is quiet and perfect for those who want to focus on their work. Although the shop looks fancy, the prices of the coffee are quite low, which is a pleasant surprise.
The place has two floors, which provides a good amount of space for customers. The internet connection is stable, making it easy to work on the go.
Location: 236 Dương Đình Nghệ, phường An Hải Bắc, quận Sơn Trà, thành phố Đà Nẵng, Quận Sơn Trà, Vietnam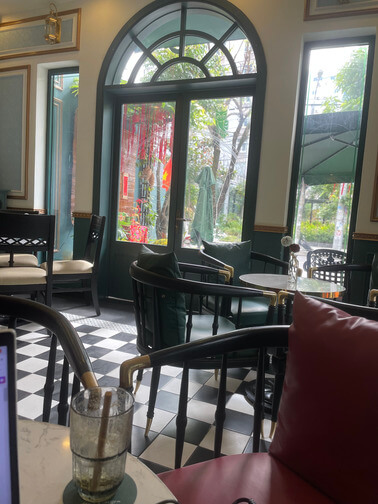 Affordable Accommodation in Da Nang
When it comes to finding a place to stay in Da Nang, you've got plenty of options.
Facebook Group
A better (and more affordable) way to find accommodation is through the Facebook group "Apartments, Houses, Villas Rental in Da Nang – Hoi An Expats." You can find landlords and owners who are offering their properties for rent at a much lower price than what you'd find on Airbnb.
Serviced Apartments
Another great and affordable option is serviced apartments. For serviced apartments, you'll generally get a fully-furnished apartment with all the necessary amenities like a kitchen and washing machine.
I found it best to look on booking.com for the apartments, and then I searched the place on Google to check if the price is lower on their website from Fooking.
Hostels
For budget-minded digital nomads, hostels are also an option. You can check on Booing.com for hostels in the area, and there are usually a few options available with prices ranging from $7-$10 per night.
I personally stayed a few days in the Seahorse Hostel & Bar by HAVI and enjoyed my stay.
Overall, I had mixed feelings about my experience. The hostel is conveniently located near the river and has several floors, although I wasn't entirely sure how many.
The first floor has a cafe that is a bit on the expensive side. On the second floor, there is a small sitting area, and on the fifth floor, there is a roof terrace with an excellent view, which I found to be a great spot to work.
However, I didn't find the rooms to be particularly comfortable, and they felt a bit crowded to me. Despite this, there are many options for places to work throughout the hostel.
If you're looking for a convenient location and a variety of options for working, the Seahorse Hostel & Bar by HAVI may be worth checking out, but if you're looking for comfortable accommodations, it may not be the best fit.
Airbnb
Airbnb is one option, but it can be quite expensive. Da Nang prices range from $20-50 per night, depending on the type of room you're looking for. If you're looking for a more luxurious stay, Airbnb is probably your best bet.
I did not use Airbnb while I was in Da Nang, but it is an option to consider.
Where did I stay
I stayed at the Raon apartments and had a fantastic experience.
The location was great, only 5 minutes away from the beach, and the staff was extremely friendly and helpful.
Additionally, the KAKAO KAFE that I mentioned earlier in the article is also located nearby. I would start my workday at the KAKAO KAFE and then move back to my apartment for lunch and to finish my work for the day.
What to Do & See While You're There
Da Nang is a great city with plenty to offer, from beaches and mountains to traditional Vietnamese cuisine. There are plenty of things to do when you're not working, such as taking a boat tour along the river or exploring the local markets for some delicious street food.
First, Rent a motorbike
Renting a motorbike is one of the best ways to explore Da Nang, as it saves you the cost of booking a tour or trip with a travel agency or taking a taxi.
In addition, It is much more convenient, as you are able to move around the city at your own leisure and explore all its hidden gems in a relaxed manner.
If you work during the week (like me) and hang out on the weekends (also like me). You can rent a motorcycle for the weekend and explore the city.
I rented a bike from Cho thuê xe máy Đà Nẵng. The owner was super friendly and helpful, and the process was very easy. It cost me 150,000 VND (around $7 – 6$) per day, and it was definitely worth it.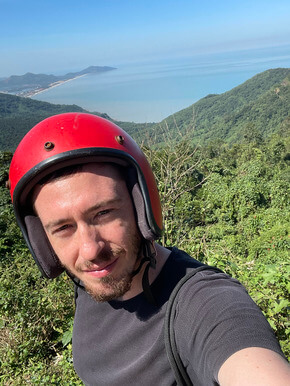 Monkey pass
There are monkeys in Da Nang!
One of the things to do when in town is to take the Monkey pass with your rented motorbike. The pass is located in the Hai Van pass, about 30 minutes away from the center of Da Nang.
The Monkey Pass is a stunningly beautiful winding road that can be explored freely with your motorcycle. Along the way, you will encounter monkeys and stunning views.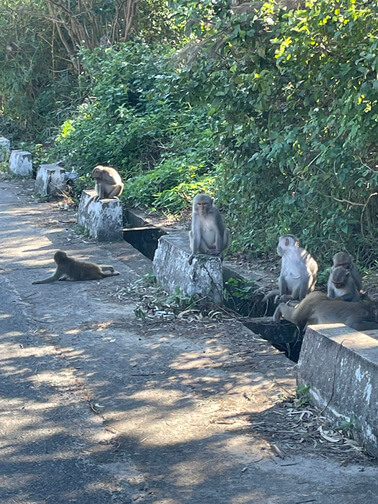 Golden Bridge
The Golden Bridge is an iconic bridge that looks like two giant hands holding up a long golden bridge. (Who doesn't want to take pictures with huge hands).
To reach the bridge. You can book a tour, take a taxi, or rent a scooter and make the journey on your own.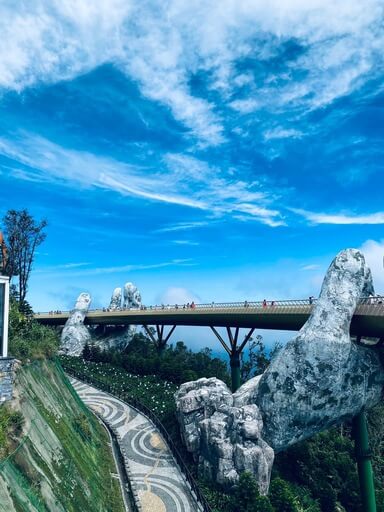 The Marble Mountains
The Marble Mountains are a great place to visit while in Da Nang. The area is made up of five limestone mountains and has several Buddhist temples, pagodas, and caves to explore. It's a great spot for hiking as well as taking some amazing photos. You can also take advantage of the cable car or ride an elephant to the top.
For most of the sites, you can arrive with a motorcycle, so I highly recommend renting one.
How to Stay Connected with Fast Internet and Local SIM Cards
Sim card
You can find SIM cards at the airport and around the city. The most popular provider is Viettel, and the card costs around 200,000 VND (9$). For more information on local SIM cards, search on google.
WiFi
Most hotels and cafes in Da Nang will offer free Wi-Fi, so you should be able to get connected pretty easily. I also found WIFI in street restaurants, but the connection is unreliable.
TIP: When you book a place to sleep. Make sure there is a cafe / co-work nearby in case The Wi-Fi at your place isn't good.
Internet speed
Da Nang was ranked first in Vietnam for mobile internet speed by the Speedtest Global Index in April 2022. So no worries about the speed.

Meeting other digital nomads in Da nang
I did find it a bit challenging to connect with other digital nomads. Unlike other destinations where there are many events and co-livings specifically catering to digital nomads, I didn't find as many opportunities to meet like-minded individuals in Da Nang.
But after all, we are in a technological age, and there are still apps and groups that can help in this matter. Here are some ways to meet more digital nomads:
Nomad list
Nomad list allows users to connect with other digital nomads in the area, making it a great way to meet like-minded individuals.
Facebook
Some of the active groups I found on Facebook:
Couchsurfing
There is an activity on Couchsurfing Da Nang, and you can join in on some of the meetups or even host one.
Tinder and Bumble
You can set your location to Da Nang and start swiping on the profiles of people in the area. You can also use the app's bio section to mention that you are a digital nomad and that you are looking to meet other digital nomads in the area.
I made a guide about Tinder in Thailand. Although he is in Thailand, there is a lot of useful information that can be applied to any destination you go to in Asia.
Overall, digital nomads in Da Nang are hard to find, but with a bit of effort and the right apps, you should be able to find like-minded people. So don't worry! You won't get bored in Da Nang.
DO'S AND DONT'S:
Do's
Rent a motorbike or bicycle to get around the city.
Try the local food. Da Nang is known for its delicious street food and seafood. Some must-try dishes include banh mi (Vietnamese sandwich), mi quang (a type of noodle soup), and bun cha (grilled pork with vermicelli noodles).
Visit the beaches. Da Nang has some of the most beautiful beaches in Vietnam, such as My Khe Beach, Non Nuoc Beach, and Bac My An Beach.
Visit the Marble Mountains. This group of limestone and marble hills is a popular tourist attraction and offers great views of the city.
Take a day trip to the nearby towns of Hoi An and Hue. Both are known for their historical and cultural significance and make for great day trips from Da Nang.
Be respectful of the local customs and traditions. Vietnam is a culturally rich country, and it's important to be mindful of customs and traditions when visiting.
Don'ts
Don't haggle too aggressively. In Vietnam, haggling is common, but it's important to remember that the prices are often quite low, and merchants make a living by selling their products. Haggling too aggressively can be considered rude and disrespectful.
Don't ignore traffic rules. Da Nang is a relatively safe city, but like most of the cities in Vietnam, traffic can be chaotic and dangerous. Make sure to follow traffic rules and be aware of your surroundings when crossing the streets.
Don't ignore the weather. Da Nang can be hot and humid, especially during the summer months. Be sure to stay hydrated, wear sunscreen, and dress appropriately for the weather conditions.
Don't be too loud and rowdy. The Vietnamese culture values peace and tranquility, and it's important to be mindful of the noise levels and not to be too loud or disruptive in public places.
Visa info
Currently, there is no visa for digital nomads in Vietnam. But travelers can obtain a tourist visa on arrival, which is valid for one month. You can also extend the visa if needed.
I used an agent to get the visa, and the process was very easy.
The agent informed me that the visa options for Vietnam are:
$35 for a less than 25 days visa
$40 for a visa valid for 25 to a maximum of 30 days per person.
If you want me to connect you to the agent, feel free to contact me.
These prices are subject to change and might vary depending on the agent you choose, but it's a good idea to research and compare the prices before you make a decision.
It's worth noting that this was my experience, and prices might have changed since then. Also, checking the updated visa requirements for Vietnam before your trip is important.
ATM In DA Nang
ATMs are located throughout Vietnam, and most of them accept international cards. In Da Nang, you can find ATMs in almost all tourist spots as well as at the airport and shopping malls.
Be sure to check with your bank before traveling to make sure your card will work in Vietnam, and be aware that there may be extra fees.
Withdrawal fee: 22000VND ($1)
Withdrawal limit: 5,000,000VND ($200)
*The info is based on my experience and might have changed since then.
My Experience As A Digital Nomad in Da Nang
My experience as a digital nomad in Da Nang was a mix of good and bad.
I arrived in the city from a flight from Bangkok and initially stayed in a hostel because I wanted to start off in a social environment. Unfortunately, the hostel I was in wasn't built for socializing, so after a few days, I decided to move to an apartment by myself.
This proved to be an excellent decision as it gave me a great atmosphere to work in, as I could work both from the cafe downstairs and in the apartment.
Regarding socializing, it was a bit challenging for me to connect with other digital nomads and foreigners, but I found some football games to play and attended a few meetups.
One of the challenges I faced was finding street food that suited my taste, as Vietnamese food is mostly seafood and spicy. That's why I used the Grab application a lot, and it was through this experience that the idea to write an article about how to use Grab's app in a way that will save you money.
Overall, the atmosphere in Da Nang was nice, and I liked going to the sea, which was only a few minutes away, to clear my head. I was also able to find some places with free Wi-Fi, which enabled me to work from different locations.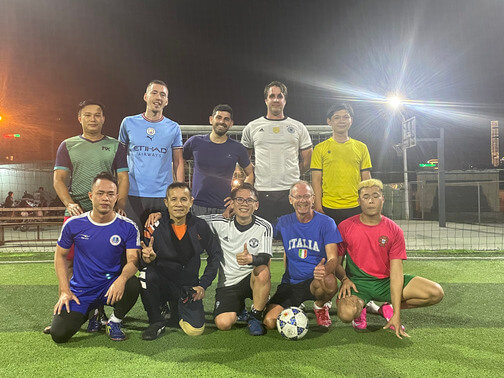 FAQ
Is Da Nang good for digital nomads?
Yes! Da Nang is becoming increasingly popular with digital nomads thanks to its great infrastructure and low cost of living.
Where do ex-pats live in Da Nang?
Most ex-pats in Da Nang live in the An Thuong, Hai Chau, and Son Tra districts.
Is it expensive to live in Vietnam?
Compared to other countries in Southeast Asia, Vietnam is a relatively cheap place to live. Of course, this can vary depending on where you are living – the cost of living in the cities is usually higher than that in rural areas.
Improve your digital nomad skills
Become a Digital Nomad
To be my friend