In this article, I want to share with you insights, tips, and advice on the digital nomad life in Bangkok.
Bangkok is one of the most popular cities for those seeking a fulfilling lifestyle as a digital nomad.
There is a reason why Bangkok was chosen ranked 2nd best city in Asia for digital nomads in a recent survey.
The city offers great infrastructure, amazing culture, and endless opportunities for work and leisure. From sky-high rooftop bars to ancient temples and traditional markets, there is something for everyone.
I still don't understand the people who don't like Bangkok because it's a bit too chaotic for them! The affordable cost of living, the abundance of co-working spaces, and the convenient transportation system make it an ideal base for any digital nomad.
So whether you are a software developer, content writer, marketer, or any other kind of freelancer, Bangkok is the place for you!
Accommodation
Here is a table I made for the most recommended accommodation options for digital nomads.
| Name | Best For? | Book |
| --- | --- | --- |
| Citadines | Best for digital nomads seeking fully furnished apartments with kitchens and living areas, located near shopping and dining. | Click Here |
| The Hive Sukhumvit | Best for digital nomads looking for a social and collaborative co-living space with amenities like coworking and a gym. | Click Here |
| Hotel Indigo | Best for digital nomads desiring a luxurious experience with private suites, a spa, and a rooftop bar with city views. | Click Here |
Related: Where Do Digital Nomads Stay?
Serviced apartments
Serviced apartments are a great option for those who need more space and privacy.
These apartments come with essential amenities such as private bathrooms, air conditioning, and a work desk.
For most of my time in Bangkok, I stayed in serviced apartments, which provided me with a comfortable and convenient living space.
Apartments
For the apartment nomads, the options range from condos and serviced apartments to long-term rentals. Prices start from around ฿25,000 (800 USD) per month for a one-bedroom apartment, depending on the location and amenities.
To find apartments for rent, you have a couple of options:
Facebook groups
There are many groups on Facebook dedicated to finding accommodation in Bangkok. You can join these groups by searching "Bangkok accommodation" or "Bangkok apartment," and you can also post your requirements. The apartments on Facebook are usually long-term rentals.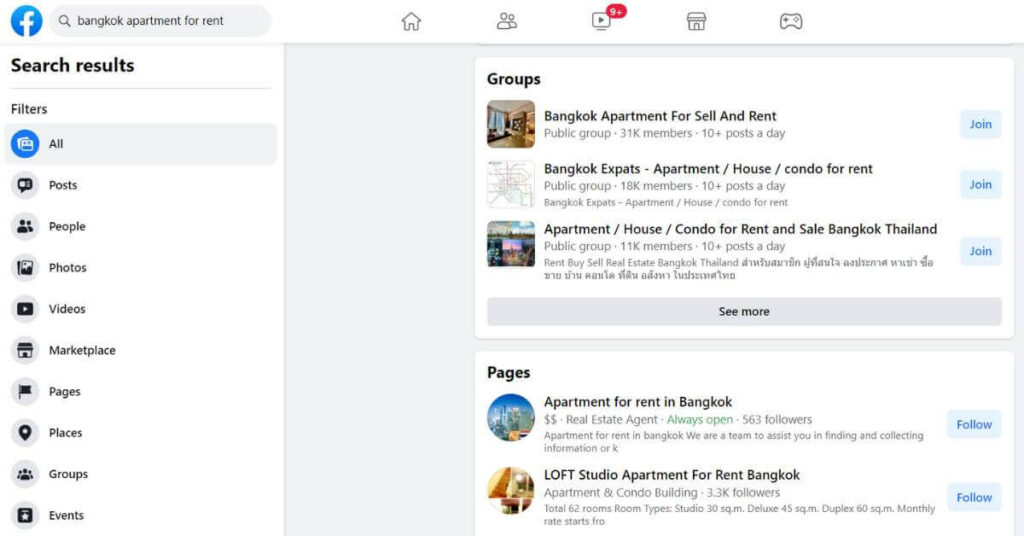 Airbnb
Airbnb also has a wide selection of apartments in Bangkok. The prices are usually more expensive than long-term rentals, but you can find some great deals with a bit of searching.
I rented an apartment with friends on Airbnb for a few weeks. And that's how we managed to save money even though the apartment prices are already low anyway.
Hotels
If you're looking for something more temporary and flexible, there are lots of great hotels in Bangkok. Prices range from ฿500 (15 USD) per night to ฿5,000 (150 USD) depending on the location and amenities.
Co-living spaces
For those who are looking for a more social living environment, coworking spaces in Bangkok are a great option. These shared living spaces offer a community of like-minded people who share common interests and goals.
Before we dive into the Co-living spaces, I have to point out. I was desperately looking for a Co-living with an office chair/ergonomic chair. Unfortunately, as of now, I haven't found a single Co-living space with an ergonomic chair for digital nomads in Bangkok.
In my opinion, Co-livings can't call themselves Co-living for digital nomads if they don't provide ergonomic chairs. So if you are still looking for recommendations on Co-livings in Bangkok, keep this in mind.
Lita Bangkok is located in the center of Bangkok and is owned by a Thai/Chinese family. This is a stylish and affordable living space for digital nomads. They have social activities and events throughout the month and offer a great sense of community. In addition, they offer weekly cleaning services and a fully equipped kitchen.
For more information, check out their website.
The Quarter Poshtel is a nice hostel for digital nomads. It is located at 501/1 Petchburi Road and offers excellent facilities. In the popular months, it is difficult to get a room, so book in advance!
For more information, check out the website.
Coworks in Bangkok
If you are taking an apartment (like me) and you're now looking for a place to work. Bangkok has plenty of co-working spaces, and there are more popping up every day. Here are two of the coworking spaces visited:
The park East
I worked for about two weeks at The Park East, and I highly recommend it. It has a nice atmosphere, friendly staff, free coffee, and plenty of space to work in.
The current price is 175 Baht per day, but if you like their Facebook page, they will offer you a discounted rate.
For more information, check out their Website
The Hive Thong Lor
The Hive Thong Lor is located in the trendy neighborhood of Thonglor and offers both flexible and dedicated desks with plenty of amenities. It also has a great atmosphere, with plenty of networking opportunities and social activities. The price is 330 Baht per day.
I only worked there for one day because I was not comfortable with their chairs. They have the same chairs as most other co-working spaces in Bangkok. It would be great if they had ergonomic chairs, at least for digital nomads.
For more information, check out their Website
Benefits of being a digital nomad in Bangkok
1. You will find a co-work in every corner
In Bangkok, there is no reason to worry when it comes to co-works. You can find one almost anywhere, and the prices are very reasonable.
Even if suddenly the internet in your co-work stops working, you can easily find another co-work in the same area.
2. Low cost of living
One of the biggest advantages of Bangkok is that it is relatively inexpensive to live here. Compared to other major cities, you will find that your cost of living is much lower.
This is especially true when it comes to accommodation and food. You can easily find a comfortable place to stay for a fraction of the price you would pay in London or New York.
3. digital nomad community
Bangkok has a thriving digital nomad community with plenty of opportunities to connect with like-minded people.
The city is full of digital nomads, and you'll find yourself meeting new people at co-working spaces, events, or even just in the cafes around town. Several Facebook groups are also dedicated to connecting digital nomads in Bangkok, including Digital Nomads Thailand.
I used Meetup to attend events, such as language exchange meetups and tech talks. One time, I attended an entrepreneurship meetup in a cozy place where I met Thai entrepreneurs, digital nomads, and techies.
4. The internet is stable and fast
The internet in Bangkok is incredibly stable and fast. I stayed in a few different apartments when I was there, and the internet speed was consistently reliable. No matter what time of day it was, I was able to access the internet with no problems.
Having a stable connection is especially important for digital nomads, so that was one less thing I had to worry about. Plus, with 4G coverage everywhere in the city, you can easily stay connected on the go.
But, don't rely on coffee shops (Starbucks) or fast food restaurants (McDonald's) for internet connection. Their Wi-Fi signal is not that strong.
The bedside
Despite the many advantages of living in Bangkok as a digital nomad, there are also some downsides you should be aware of.
1. The language barrier
The majority of the population in Bangkok speaks very little English, so if you don't know any Thai, it can be difficult to communicate.
It was difficult for me to communicate with the Uber drivers when I wanted to ensure I was going to the right place.
But don't forget. Google Translate is our best friend!
2. Pollution
As soon as you arrive in Bangkok, you will feel the pollution. Bangkok's air quality can be pretty bad, especially in certain areas.
3. heavy traffic
The traffic in Bangkok is notoriously bad, and it can be a pain to get around. I found that the best way to avoid the worst of the traffic is to plan ahead and use public transport or taxis.
4. Heat and humidity
The city can be extremely hot and humid during the summer months, so staying hydrated and taking breaks from the heat is important.
Overall, I think the advantages of living in Bangkok as a digital nomad outweigh the disadvantages.
Groups to join
Facebook:
WhatsApp:
Thailand Backpackers: https://chat.whatsapp.com/ETgRcUwpqE28xIyYSPcABd
Bangkok: https://chat.whatsapp.com/Bo0v7MkxxSWH4UDDVLsNjB
How to make the most of your time as a digital nomad in Bangkok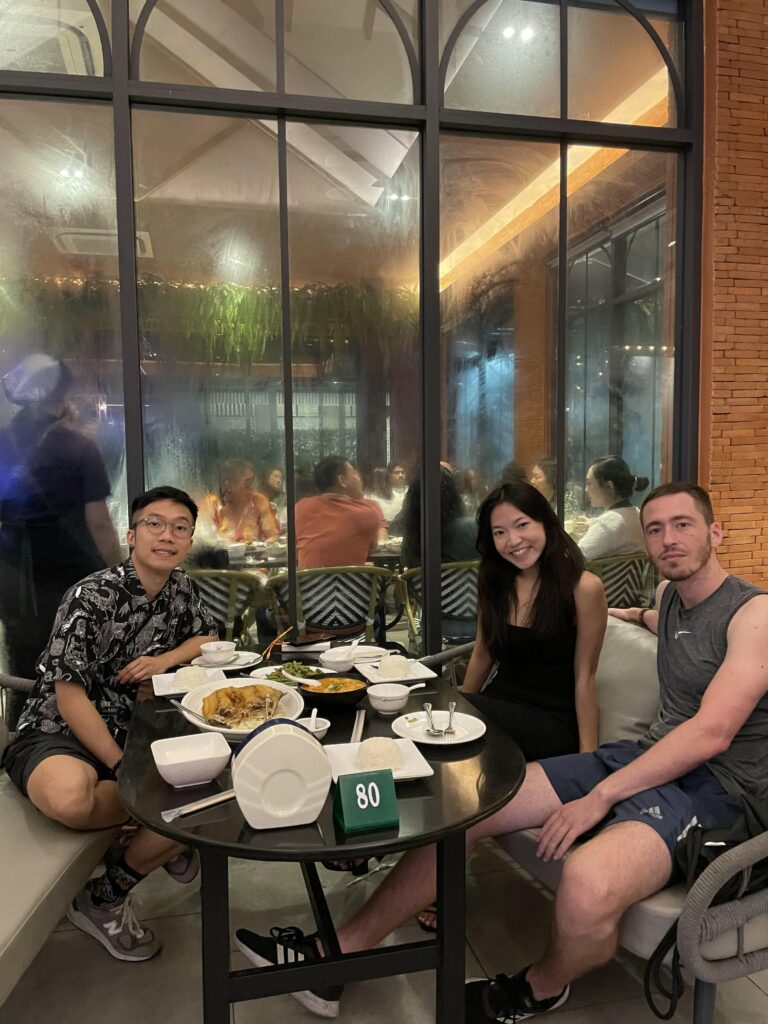 Take advantage of the city's co-working spaces:
Bangkok is home to many co-working spaces catering to digital nomads and freelancers. These spaces offer a variety of amenities, such as high-speed internet, private offices, and meeting rooms, to help you stay productive while working remotely.
Explore the city's vibrant social scene:
Bangkok is known for its bustling nightlife, and there are plenty of opportunities to meet other digital nomads and locals at bars, clubs, and events. Many co-working spaces also host social events, allowing you to network and make connections.
Some of my favorite places to check out for clubbing:
Route66
Bobo Club
Onyx Bangkok
Take advantage of the city's low cost of living:
Bangkok is generally a very affordable place to live, which can be especially beneficial for digital nomads working on a limited budget. From cheap street food to affordable accommodation, there are many ways to save money while living in Bangkok.
Make time for sightseeing and adventure:
While working as a digital nomad in Bangkok, make sure to take some time to explore the city's many cultural attractions and natural beauty. From ancient temples and palaces to beautiful beaches and national parks, there is something for everyone in Bangkok.
Participated in workshops and classes:
You can find workshops and classes for all kinds of topics, from music production to photography to coding. This is a great opportunity to learn new things and experience the culture of the city.
There are many workshops and classes available in Bangkok that cater to a variety of interests. Here are a few examples:
Cooking classes:
Bangkok is known for its delicious food, and there are many cooking classes available that allow you to learn how to prepare traditional Thai dishes.
Art classes:
If you have an interest in art, consider taking a painting, drawing, or sculpture class in Bangkok. There are many studios and galleries that offer classes for both beginners and experienced artists.
Yoga and meditation classes:
With its laid-back vibe and abundance of yoga studios, Bangkok is a great place to practice yoga and meditation. There are classes available for all levels, and many studios also offer retreats and teacher training programs.
Language classes:
If you're interested in learning Thai or another language, there are many language schools in Bangkok that offer group and private classes.
Cultural workshops:
There are also many workshops available that focus on traditional Thai culture and crafts, such as silk weaving, fruit carving, and herbal medicine. These classes can be a great way to learn about local customs and traditions.
Muay Thai classes:
Muay Thai, also known as Thai kickboxing, is a popular sport in Thailand. If you're looking for an active way to stay fit while exploring the city, consider joining one of the many Muay Thai gyms and classes available in Bangkok.
Play football:
The city also has a vibrant football scene, and there are several places to play pick-up games and even join local teams. Bangkok is also home to many professional football clubs and academies if you want a more serious commitment.
What not to do in Bangkok
Here is a list of things to avoid doing in Bangkok:
Don't disrespect the monarchy:
The monarchy is highly revered in Thailand, and it is important to show respect when visiting the country. Avoid making negative comments about the monarchy or engaging in any behavior that could be perceived as disrespectful.
Don't wear inappropriate clothing:
It is important to dress modestly when visiting Bangkok temples and other cultural sites. Avoid wearing revealing or inappropriate clothing, and make sure to cover your shoulders and knees when visiting religious sites.
Don't haggle too aggressively:
While haggling is common in Bangkok's markets and street stalls, it is important to be respectful and not overly aggressive. Avoid insulting the seller or trying to lowball them too much.
Don't litter:
Littering is a serious issue in Bangkok, and it is important to dispose of trash properly. Use the many trash bins located throughout the city, and avoid littering on the streets or in public spaces.
Don't get involved with illegal activities:
Bangkok has a reputation for being a place where visitors can easily find illegal drugs and other illicit activities. However, it is important to remember that these activities are illegal and can result in serious consequences, including imprisonment. Avoid getting involved in any illegal activities while visiting Bangkok.
Visa for Thailand
To visit Thailand, most travelers will need to obtain a visa in advance. The type of visa you will need depends on the purpose of your visit and how long you plan to stay in the country.
Tourist visa: If you are planning to visit Thailand for tourism purposes, you will need a tourist visa. This type of visa allows you to stay in Thailand for up to 60 days. You can apply for a tourist visa at a Thai embassy or consulate in your home country or apply for a visa on arrival at certain international airports in Thailand.
Non-immigrant visa: If you are planning to visit Thailand for purposes other than tourism, such as studying, working, or conducting business, you will need a non-immigrant visa. This type of visa allows you to stay in Thailand for up to 90 days. You can apply for a non-immigrant visa at a Thai embassy or consulate in your home country.
Extension of stay: If you want to stay in Thailand for longer than the duration of your initial visa, you can apply for an extension of stay at a local immigration office in Thailand. The extension can be granted for an additional 30 days to a maximum of 90 days, depending on your visa type.
It's important to note that the process for obtaining a visa to Thailand can vary depending on your country of origin and the purpose of your visit. Be sure to research the specific requirements and procedures for obtaining a visa to Thailand, and allow plenty of time to complete the process before your trip.
Check out the THAI E-VISA OFFICIAL WEBSITE for more in-depth information on your visa options.
My experience in Bangkok
Overall, my experience in Bangkok was a mix of excitement and challenges. The city is vast and can feel like a maze, with endless shopping malls and street food options. However, I found the nightlife in Bangkok to be truly fantastic and enjoyed celebrating with my friends in various clubs.
The cultural immersion was also an amazing experience. On the other hand, the city can be quite crowded and busy, which I found to be overwhelming at times. Despite this, I would say that Bangkok is a city that should be experienced at least once in a lifetime as it offers a unique blend of culture, history, and modernity.
In addition to the great nightlife and cultural immersion, I found it easy to find the balance between work and leisure in Bangkok.
I would work in the mornings, either from my serviced apartment or from a coworking space, and then in the evenings, I would explore the city and engage in various activities. This included going to meet-ups, watching soccer games, meeting up with friends, and having some dating experiences.
The city offers a great balance of work and play, which makes it easy to have a fulfilling and enjoyable experience as a digital nomad.
FAQ
Is it safe to eat street food in Bangkok?
Yes, it is generally safe to eat street food in Bangkok. But still, be careful and buy from clean vendors with a high turnover.
Before I came to Bangkok, I had no experience with street food. I couldn't figure out if the food was healthy and safe to eat.
I posted my concern on the Facebook group of Bangkok ex-pats. The main answer I received from the post was: Eat where you can see the food being cooked. And apart from the cynical comments, the impression I got is that everyone is eating street food and that it is generally safe.
Now, after 1 month in which I mostly ate street food, I can attest to its deliciousness and safety.
What is the best way to get around?
The easiest and most affordable way to get around Bangkok is by public transport, such as the Skytrain (BTS) and the Subway (MRT). Bolt and Grab are also popular apps for getting around the city.
What's the best area to stay in Bangkok?
It depends on what you are looking for. For digital nomads, Sukhumvit and Silom tend to be popular areas with plenty of accommodation options and coworking spaces.
If you're looking for a more local experience, then exploring the old city and Chinatown is a great option.
How long can digital nomads stay in Thailand?
Foreigners with valid passports from countries listed on the Ministry of Foreign Affairs website can stay in Thailand for up to 30 days without a visa.
If you plan to stay longer than 30 days, there are several options available. Depending on your nationality and purpose of stay, you can apply for tourist visas, business visas, or even retirement visas.
It's important to research the visa requirements for your country in advance, as each has its own specific rules and regulations.
Is digital nomad legal in Thailand?
Yes, digital nomadism is legal in Thailand. The country has been gradually rolling out different visa options for freelancers and remote workers, including long-stay tourist visas and non-immigrant visas.
Final words
Overall, I had a great time living in Bangkok as a digital nomad.
I saw the World Cup here, made some great friends, and tasted some of the best street food in the world. Despite the language barrier, pollution, traffic, and heat and humidity, Bangkok is still a great city for digital nomads.
If you plan to stay in Bangkok, I'd suggest joining Facebook groups and WhatsApp chats to get advice from fellow ex-pats and travelers.
And don't forget, research your country's visa requirements before coming here!
Good luck with your digital nomad journey in Bangkok!
Improve your digital nomad skills
Become a Digital Nomad
To be my friend