Before coming to Hua Hin, I was based in Koh Tao – a busy, touristy island that I found difficult to enjoy as a digital nomad. As I explained in my previous review of Koh Tao, the crowded beaches, lack of coworking spaces, and unreliable internet made remote work challenging.
So, when it came time to find a new home base, I decided to try somewhere off the usual digital nomad trail. Hua Hin caught my eye as a lower-key Thai city that doesn't get as much hype or tourists. The idea of an under-the-radar destination appealed to my desire to find undiscovered gems. And I wondered if Hua Hin could offer the relaxed, authentic vibe I was seeking without the downsides of more popular nomad hotspots like Chiang Mai or Bali.
How to get to Hua Hin
Getting to Hua Hin is pretty easy, given its proximity to Bangkok. The most convenient option is booking a bus, minibus, or van transfer using 12go. This booking site makes it simple to compare schedules and prices across companies servicing the Bangkok to Hua Hin route. Buses start around $7 USD and take 3-4 hours. You can catch them from Bangkok's main bus terminals like Sai Tai Mai and Southern Terminal.
I used 12go multiple times and highly recommend it as an affordable transport option.
Accommodation
Unlike more established digital nomad hubs like Bangkok and Chiang Mai, Hua Hin doesn't have as many accommodation options designed specifically with remote workers in mind. So, finding the right place took a bit more effort. After checking out a couple of subpar residences, I eventually landed at Soi 7 Hin Nam – Ji Ya.
This apartment complex ended up being a great home base for my time in Hua Hin. The rooms came equipped with comfortable office chairs and reliable high-speed internet – two must-haves for this nomad. The complex also had great facilities like a pool and gym. And I appreciated having a full kitchen in my studio apartment.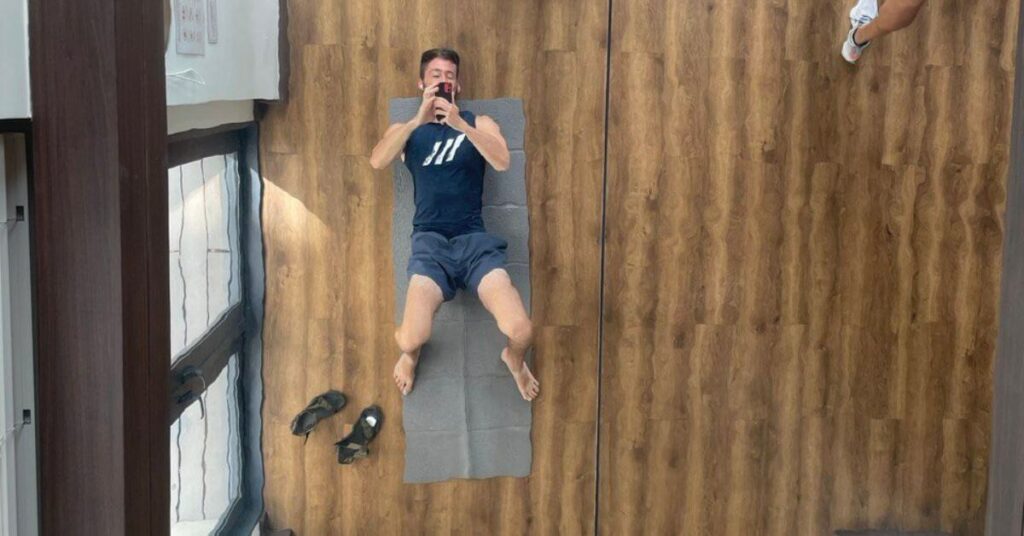 While the process wasn't as seamless as in Koh Phangan, a bit of persistence led me to the perfect remote work-friendly residence in Hua Hin. The hunt requires some extra effort to find places catering to digital nomads in this less-established location.
Here is a video that includes pictures of the place:
Internet speed
I was impressed with the internet connectivity at my Hua Hin apartment – it clocked speeds of around 173 Mbps download, which is great by any standard. The wifi was stable enough for video calls, uploads, downloads, and streaming.
Throughout my whole stay, I didn't experience any connectivity issues or slow speeds that disrupted my work. I could jump on Zoom meetings, access cloud software, and get work done without any internet-related headaches. For digital nomads who rely on the internet to make a living, the connection speed and reliability I found is a huge perk to working in Hua Hin.
Co-working spaces & cafes for remote work
There are a couple of options like Insight CoHub and True Sphere – Blúport Hua Hin, however, I mostly worked from my apartment, so I didn't get a chance to personally try them out.
There were two good spots I frequented:
Airspace – Airspace has fast wifi, ample seating, and good coffee, though it can get a bit crowded at times.
BRIEF– BRIEF is spacious, has lots of natural light, and makes for a tranquil place to work for a few hours.
Related: How To Coworking working Space.
Cost of living in Hua Hin
Compared to popular digital nomad spots like Bangkok, Hua Hin offers an affordable cost of living that's easy on the wallet. While not as cheap as in more rural parts of Thailand, the prices in Hua Hin are generally lower than other tourist destinations in Thailand.
I found I could comfortably get by on around $1000 USD per month if living a modest lifestyle. Rent for my studio apartment was around $680 per month, including utilities – more expensive than I expected but still cheaper than an equivalent place in Bangkok or Phuket. Local Thai food from street stalls and restaurants is very affordable, with most meals costing $2-5 USD. Even Western food is reasonably priced compared to bigger cities.
Groceries, transportation, and other daily costs are lower than in Thailand's main tourist hubs. But Hua Hin still offers enough modern amenities and comforts without the price tag you'd find in pricier digital nomad cities like Singapore or Dubai. For budget-conscious nomads who want to stretch their dollar, Hua Hin offers a lot of value.
If you're looking for tips on stretching your dollar as a location-independent worker, be sure to check out my article on how to save money as a digital nomad.
Community
Unlike bustling digital nomad hotspots, Hua Hin doesn't have an established community or network for remote workers. During my time there, I only met a handful of other digital nomads also staying in my apartment complex. Beyond that, there didn't seem to be a thriving nomad social scene.
However, I did encounter many Russian families who appeared to have moved to Hua Hin, perhaps seeking respite from the ongoing conflict in Ukraine.
Pros & Cons
Pros
More relaxed, authentic Thai vibe without the crowds of bigger cities
Lower cost of living compared to popular nomad spots like Chiang Mai
Affordable, comfortable apartments suitable for remote work
Fast, stable internet – I had no issues working online
Friendly locals who are happy to see foreign visitors
Great beaches, seafood, and nature nearby
Cons
Limited coworking spaces and nomad-friendly cafes
Have to be more proactive about meeting people and making friends
Less established infrastructure catering to digital nomads specifically
It can feel isolated or quiet for those who thrive around other nomads
Nightlife is pretty limited beyond low-key beach bars
Overall, the pros of Hua Hin's chill vibe and lower costs outweigh the cons for me. But it depends on your priorities – those looking for an active social scene may prefer a more bustling digital nomad hub.
Is Hua Hin worth it for digital nomads?
Overall, Hua Hin proved to be a worthwhile destination for this digital nomad, albeit with some tradeoffs. On the plus side, I was able to find suitable housing and cafes to work remotely. However, the lack of an established nomad community meant making friends took more effort. But for digital nomads craving peace rather than constant socializing, the tranquility of Hua Hin may be just what you need.
With its lower cost of living, laidback vibe, and proximity to beach life, I recommend giving Hua Hin a shot. And be sure to check out the incredible water park while you're there for some fun in the sun!
Psss… For the Tinder people here, I wrote a guide about Tinder in Thailand. Check it out!
Improve your digital nomad skills
Become a Digital Nomad
To be my friend