Are you a digital nomad? If so, finding the right place to stay can be tricky. There are so many options out there, and it can be hard to know which one is right for you.
In this guide, we will discuss how to choose a hostel as a digital nomad. We'll cover everything from location to price to amenities.
So whether you're just starting on your digital nomad journey or you're looking for a change of scenery, read on for the best tips!
How does a hostel work?
The first thing to know about hostels is how they work. Hostels are typically dormitory-style accommodations with multiple beds in one room.
You will usually have a locker to store your belongings and share a bathroom with other guests. Some hostels also have private rooms available for an additional cost.
Hostels are an excellent option for digital nomads because they are typically very affordable. Prices can range from $15-$30 per night, depending on the location and amenities.
How to choose the right hostel for your needs as a digital nomad
#1: Digital friendly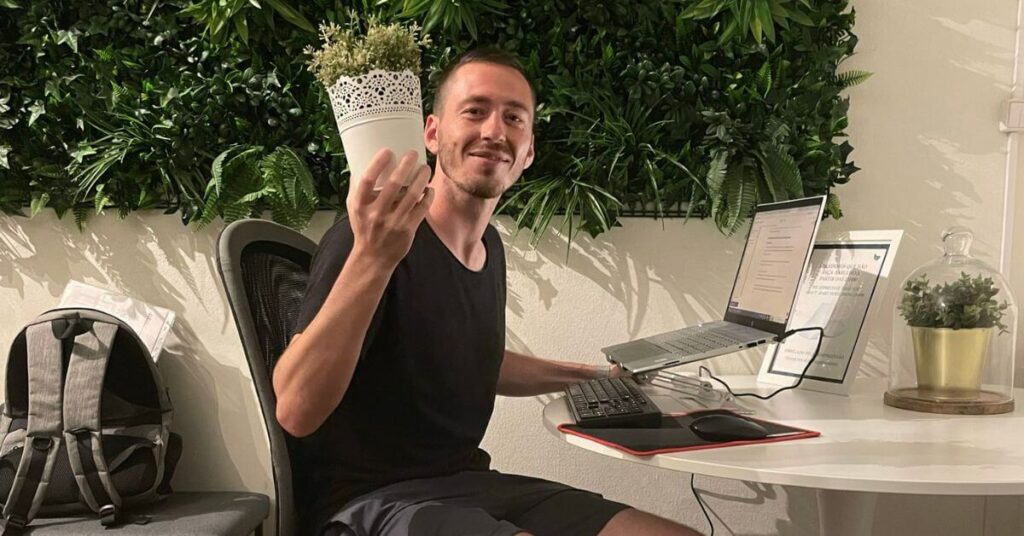 Me & my best friend – The chair
The first thing you want to look for in a hostel is whether or not it's digital-friendly. This means the hostel has good Wi-Fi, a comfortable chair (because our back is important), and a place to plug in your laptop.
Some hostels even have co-working spaces, which can be great if you need to get some work done but don't want to do it in your room.
#2: Location, location, location
Sometimes when we work from the hostel, there will be problems such as a power outage or the Wi-Fi not working.
That's why we need plan B, which is finding a hostel in a strategic location. By this, we mean that the hostel should be near cafes, restaurants, and other places where you can work if the need arises.
It's also important to consider the hostel's location for your activities. If you like to go out and explore, you might want to choose a centrally located hostel so you can walk everywhere.
On the other hand, a hostel that's a little further away from the hustle and bustle might be a better option for you if you prefer to stay in and relax.
It all comes down to personal preference, so think about what kind of location would suit you best.
#3: Budget
Of course, your budget is one of the most important considerations when choosing a hostel.
There are many great options out there, but it's crucial to find one that fits your price range.
Don't forget to factor in the cost of activities and food when you're budgeting for your stay.
If you're looking to save some money, there are often hostels that have a kitchen so you can cook your meals.
Important note: Hostels with low ratings will usually be cheap, and It can be tempting to book them but keep in mind that you get what you pay for. I recommend avoiding hostels with low ratings, as they likely won't have the best Wifi, a place to work from, or be in a great location.
Related: How to save money as a digital nomad
#4: Read the reviews
After you've considered all the factors above, it's time to start reading some reviews.
This is where you can get a feel for what the hostel is like.
Be sure to read the solo travelers' reviews to get an idea of what it's like to stay there as a digital nomad.
It's also helpful to look at the photos that people have posted. This can give you a good sense of the atmosphere and what the hostel looks like.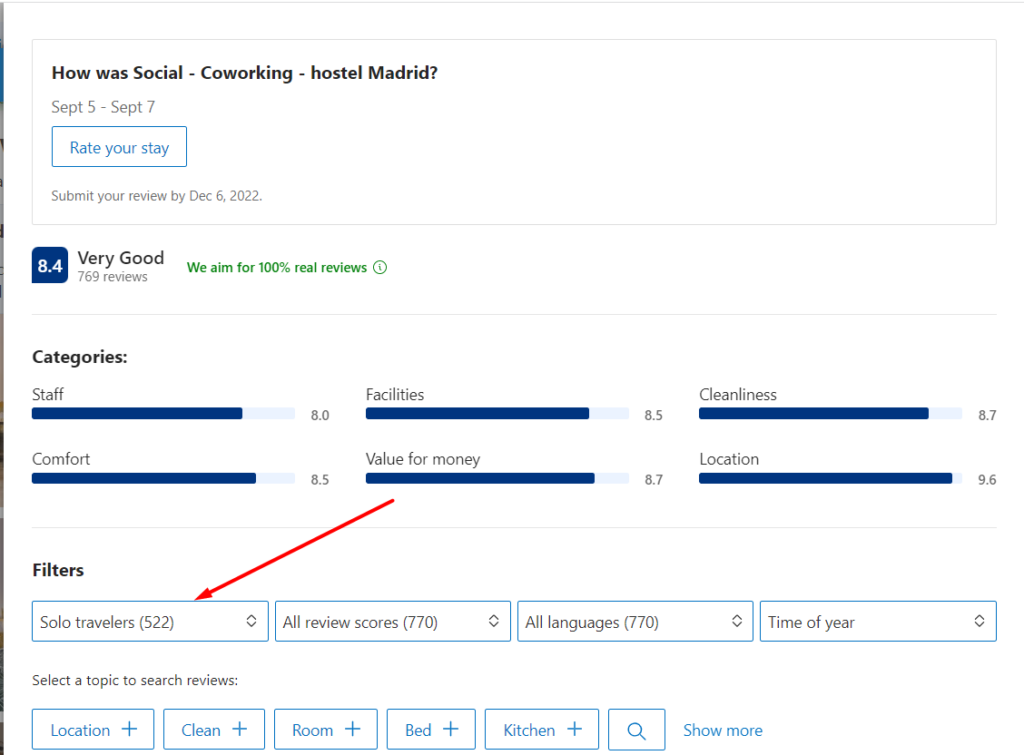 Don't forget to filter solo travelers
Examples
A good hostel for digital nomads:
Comfortable chairs.
High rating.
Good reviews.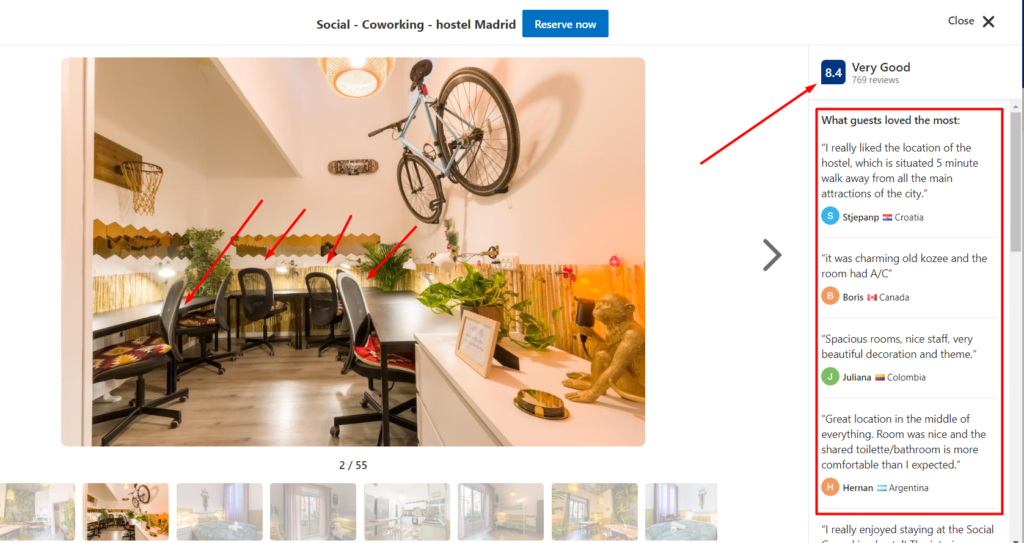 Warning signs of a bad hostel:
Low rating.
There is no sign of a work area.
It looks suspicious because there aren't many photos of the place.
The importance of internet speed
As a digital nomad, internet speed is one of the most important things to consider. You need to be able to rely on the Wi-Fi for work, so you must find a hostel with good internet. Read the reviews and see what other travelers have said about the Wi-Fi before you book.
You can also request an internet speed test from the hostel before you book to ensure it's up to your standards.
How long can you stay at a hostel?
You can often stay for an extended period, from 1 month up 6 months. Some hostels will require you to pay upfront, while others will let you pay month-to-month.
What is it like staying in a hostel?
Staying in a hostel is one of the best ways to travel. You save so much money on accommodation, and you meet interesting people from all over the world that are like-minded. Plus, it's a great way to see new places. If you have never stayed in a hostel before, I would highly recommend it!
Benefits of staying in a hostel
There are many benefits of staying in a hostel as a digital nomad. Some of the most important benefits include the following:
1. Save money on accommodation
For many people, the appeal of hostel life is the opportunity to save money on accommodation. Hostels typically offer guests a bed in a shared room at a much lower price than a hotel, making them an attractive option for budget-minded travelers and digital nomads.
2. Meet interesting people
In a hostel, you are never alone. You will always meet someone new to chat with in the common room, go on adventures with, or even just have a beer.
Since young travelers often frequent hostels, you'll have the chance to meet people from all walks of life and learn about their cultures and experiences.
3. Learn about new places
If you're the type of person who loves to explore new places, a hostel is a perfect place for you. Since hostels are often located in central areas, walking around and exploring your surroundings is easy.
You'll also have the opportunity to ask the staff and other guests for recommendations on things to do and see in the area.
4. Flexible stay (month-to-month)
Many hostels will allow you to stay for a month or more, making them an excellent option for digital nomads who want to stay in one place for an extended period.
5. Good Wi-Fi
As a digital nomad, you'll need to be able to rely on Wi-Fi for work. Luckily, many hostels offer guests good Wi-Fi, so you can stay connected and get your work done.
Downsides of staying in a hostel
Of course, there are also some downsides to staying in a hostel. Some of the most common complaints include
-Shared bathrooms
-No privacy
-Can be noisy
-Not always clean
-Can be crowded
-Can be hard to work
How to make the most out of your hostel experience as a digital nomad
1. Choose shared rooms over private rooms
You'll be able to meet more people and socialize more quickly in a shared room.
2. Prefer to cook in the kitchen instead of eating out all the time
You'll save money and meet people from all over the world.
3. Check out the activities offered by the hostel
You might be able to find some exciting activities that you wouldn't have found otherwise.
Examples of events offered by hostels:
-Wine tastings
-Pub crawls
-City tours
-Hiking trips
-Bike rentals
-Salsa lessons
Is it safe to stay in a hostel
Yes, it is safe to stay in a hostel. You need to be aware of your surroundings and take precautions, such as not leaving your belongings unguarded in a shared room.
Tips for staying productive at a hostel
If you're worried about staying unproductive at a hostel, you can do a few things to make the most of your time:
-Morning routine (Check out: The best morning routine for digital nomads)
-Set a daily schedule and stick to it
-Find a quiet spot to work
-Invest in noise-canceling headphones
-Stay fit (Our guide to how to stay fit while traveling)
-Take breaks often
-Socialize during downtime
Hostel etiquette
When staying in a hostel, it's essential to be respectful of other guests and staff. Here are a few things to keep in mind:
-Keep your belongings stored away neatly
-Don't make too much noise
-Be considerate of others when using shared spaces
-Wash your dishes after using them
-Throw away your trash
-Be respectful of other cultures and religions
So should I stay in a hostel?
The answer to this question is ultimately up to you. If you're worried about the downsides of staying in a hostel, consider some of the benefits and tips we've covered in this article.
Whether or not you enjoy your experience will depend on your personality and preferences. So if you're up for meeting new people and exploring new places, a hostel might be a great option for you.
I hope this article has helped you decide whether or not staying in a hostel is right for you. If you are still undecided, If you're interested in reading my thoughts on Airbnb vs. hostels, click here.
Improve your digital nomad skills
Become a Digital Nomad
To be my friend